News
$4 Million in Gifts Establish the Newton N. Minow Professorship
April 10, 2014
Friends, colleagues, and fellow Northwestern alumni made gifts totaling $4 million to establish an endowment for a new named professorship at Northwestern University School of Law in honor of Newton N. Minow (BS '49, JD '50), Life Trustee and Walter Annenberg Professor Emeritus at the University.

The gift also will be used to establish the Newton N. Minow Debates at the Law School.

"Newt's contributions to public and civic life in the United States, the practice of law and the intellectual life of the law school are beyond measure," Northwestern Law Dean Daniel B. Rodriguez said. "He is also a friend and mentor to many generations of lawyers. I am delighted that his friends, fellow alumni, and Sidley colleagues have chosen to honor him with a named professorship here at Northwestern Law, and that we are able to recognize Newt's legacy by hosting the Minow Debates for years to come."

The endowment is funded by a consortium of Minow's personal friends, fellow alumni, and colleagues from Sidley Austin LLP—an international legal services firm headquartered in Chicago, where Minow is senior counsel.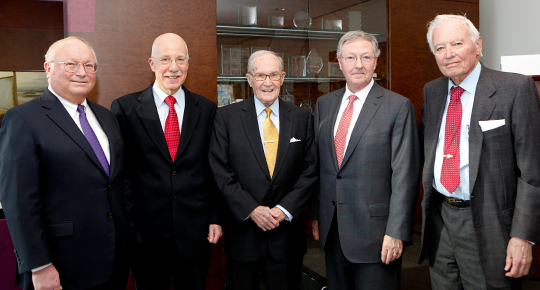 Friends and colleagues of Newton N. Minow gathered at Sidley Austin in Chicago on April 9 to celebrate the creation of a new Northwestern Law professorship named in Minow's honor, from left: Chuck Douglas (BA '70), Mark Angelson, Newt Minow (BS '49, JD '50), Carter Phillips (JD '77), Howard Trienens (BBA '45, JD '49)

Appointed by President John F. Kennedy to the Federal Communications Commission in the early 1960s, Minow drafted legislation that expanded the broadcast spectrum and promoted the implementation of communication satellite technology. In 1961, while serving as Federal Communications Commission chairman, Minow referred to television as a "vast wasteland" in a landmark speech still remembered today.

Minow is a former chair of the Public Broadcasting Service, past co-chair of the 1976 and 1980 presidential debates, and vice chair of the Commission on Presidential Debates. He is one of the originators of the televised presidential debates, which inspired the idea to honor his legacy with a permanent debate program at his alma mater. They likely will be held at the School of Law every other year and will engage outside experts, law school faculty and/or students in debate on important and timely legal issues.

Minow earned his bachelor's degree in 1949, and his JD in 1950, both from Northwestern. He served as law clerk to the Honorable Fred M. Vinson, Chief Justice of the United States, and as assistant counsel to Illinois Governor Adlai Stevenson. He was a partner at Sidley Austin from 1965 to 1991. He joined the Northwestern University Board of Trustees in 1975, became a Life Trustee in 1987, and currently is the Walter Annenberg Professor Emeritus at the University.

"Newt has been an integral part of the Northwestern family since his undergraduate days here, and since then has had extraordinary influence in the world," said Northwestern University President Morton Schapiro. "We are thrilled that his colleagues and friends from Sidley have made it possible for Northwestern to recognize Newt with an endowed professorship that will ensure that his name lives on at the law school in perpetuity."