News
Students, Faculty, and Staff Stand Together for Social Justice
December 05, 2014
A coalition of student organizations led by the Black Law Students Association (BLSA) brought Northwestern Law students, faculty, and staff together to stand for social justice.

"The non-indictments in the Brown and Garner cases have exposed flaws in the criminal justice system," said Jarrett Burks (JD '16), BLSA president. "We organized this event to demonstrate that our community is hopeful that we can make a difference—that we can effect change."

The Student Bar Association, Northwestern Law's elected student government, issued a statement of support that read in part:
We are proud to attend the university that graduated the first female law student in the country, a university whose Bluhm Legal Clinic played a role in abolishing the death penalty in Illinois, and a university that last century welcomed Black law students from their segregationist home states, students who went on to do great things for their communities. Let us continue to be on the forefront, and leverage the unique position we are in as law students to effect change. Let us stand together against injustice, against discrimination, and against oppression in all cities, in all states, and in all countries.
"This is a first step," said Sasha Young (JD '16), BLSA's vice president of outreach. "We are planning further programming for the beginning of next semester that will look at how we, as law students and future lawyers, can use our backgrounds and legal education to explore opportunities for reform."

Two hundred members of the Northwestern Law community joined together this afternoon in a show of solidarity and shared conviction.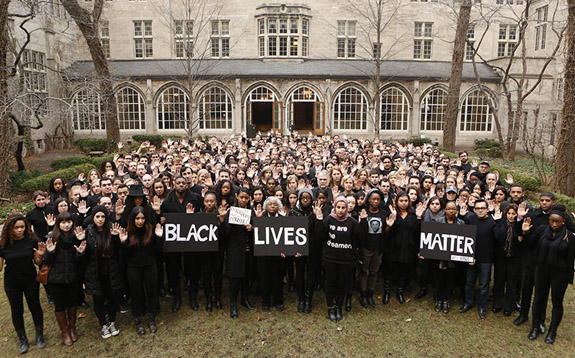 "The deaths of Mike Brown and Eric Garner are tragedies that have galvanized the country," said Dean Daniel B. Rodriguez. "I'm proud of our students for their advocacy, leadership, and commitment to social justice."

Student organizations participating in the coalition include:

• American Civil Liberties Union
• American Constitution Society
• Asian Pacific American Law Students Association
• Black Law Students Association
• Christian Legal Society
• Latino Law Students Association
• Law Students for Reproductive Justice
• National Lawyers Guild
• Northwestern Law Democrats
• Northwestern Law Diversity Coalition
• Northwestern Journal of Law and Social Policy
• OUTLaw
• South Asian Law Students Association
• Student Bar Association
• Women's Leadership Coalition