News
Law & Entrepreneurship
April 23, 2015
Jonathan Gunn (JD '13) came to Northwestern Law with a doctorate in biomaterials and nanotechnology and experience in cancer research.
"I'm interested in the intersection of law, technology, and entrepreneurship," Gunn said. "At Northwestern Law, I found a community of people working on a variety of projects in this area. Now some of my former fellow students are my business partners."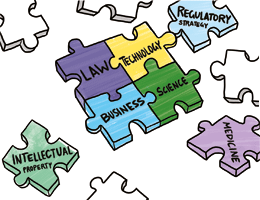 A variety of programs and courses facilitate work at the intersection of law and entrepreneurship, including the Bluhm Legal Clinic's Entrepreneurship Law Center (ELC) and its associated student group; the Entrepreneurship Law course; NUvention, an interdisciplinary course in which several Northwestern schools collaborate; the three-year JD-MBA program; and the Master of Science in Law program.
Gunn participated in the Entrepreneurship Law course and in NUvention. The work he did as a student led to the creation of an innovative medical device company called Briteseed, of which Gunn is now the chief technology officer.
Entrepreneurship Law Center
The ELC was one of the first legal clinics in the United States to provide intensive, hands-on training for students who want to be transactional lawyers or founders of start-up companies. The prerequisite course to participate in the clinic, Entrepreneurship Law, is a simulated version of the clinical experience that draws more than 100 students each year.
Under the supervision of clinical faculty, students in the clinic work together to represent new ventures, more established businesses, social entrepreneurs, and nonprofit organizations. Client projects range from entity selection and formation, to intellectual property protection, to drafting founders agreements and customer contracts. [The ELC was founded in 1998 as the Small Business Opportunity Center, but the name was changed in 2010 to more accurately reflect the client base.]
"Effectively representing entrepreneurs requires a unique skill set," said Center director Esther S. Barron (JD '95). "Both the class and the clinic provide experiences that prepare students to be successful in this practice area and become integral to entrepreneurial teams. We help our clients establish and grow their enterprises on a solid legal foundation."
The Entrepreneurship Law Center's associated Student Group provides members the opportunity to network with local transactional lawyers and connect with members of the start-up community. Students Allie Hastings (JD '14) and Katherine Pine (JD expected '15) are co-presidents. Both women chose Northwestern Law because of its commitment to entrepreneurship.
After working for a music software startup in Mexico for two years, Pine became interested in the multifaceted process of getting a company off the ground. She came to law school to acquire the skills necessary to counsel emerging companies with their legal issues.
"The ELC allows me to be involved in the collaborative, ever-changing, creative environment that I love," said Pine, who is also a student in NUvention. "Working with the ELC, I had the opportunity to build relationships with faculty and the entrepreneurial community. The experience gives me a credible foundation and preparation for practice. I also have a much better idea of how to relate to my clients, understand their issues, and empathize with them."
As co-presidents of the ELC student Group, Hastings and Pine planned the annual ELC conference—a forum to explore various legal issues confronting entrepreneurs.
"I wanted hands-on entrepreneurial experience, so I was excited about programs like ELC and NUvention," said Hastings, who worked for several years in the technology sector, for companies including Google and Expedia Inc., before coming to the Law School. "I loved the idea of gaining an all-inclusive experience in business and law."
Hastings recently participated in a competition sponsored by 1871, a shared work space for tech startups in Chicago. Northwestern has an office at 1871, and the ELC represents several of the companies operating there. "Campus 1871" was a "3-day hackathon" that brought together 80 students from universities across Chicago, where they formed teams, conceptualized a business, and pitched their business ideas. Hastings' team won the competition by pitching an idea for a web service called Alpacu ("al-pack-you"), an in-city moving marketplace that "…take[s] the 'sucks' out of 'moving sucks.'"
NUvention
Created to expand Northwestern's interdisciplinary curricula and promote collaboration throughout the University, NUvention classes teach students how innovations become viable business enterprises by putting them in the role of inventors and having them follow their ideas through the commercialization life cycle. There are six NUvention courses: Energy, Impact, Medical, Nano, Web, and Analytics. The program was ranked among the country's top 10 entrepreneurial programs by Inc. magazine.
Gunn, Hastings, and Pine participated in NUvention: Medical, where students from the School of Law, the Feinberg School of Medicine, the Kellogg School of Management, and the McCormick School of Engineering form interdisciplinary teams and spend two quarters collaborating in an effort to develop new medical device technologies.
The teams are assigned to subspecialty areas, such as radiology or cardiology. They shadow Feinberg clinical faculty, observe surgeries, and interview doctors to develop a list of medical needs in their subspecialty areas; then they work with clinicians to define the most urgent problems and begin devising solutions. Assignments include prototyping the medical device and protecting the team's intellectual property, which culminates in filing a provisional patent application. A weekly class supplements the process with case studies, lectures, and guest speakers.
Students also learn about the issues involved in business formation, and they select the entity that best suits their business model and product. Some teams stay together beyond the course and go on to start companies.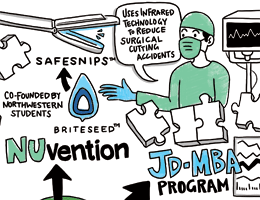 Briteseed is one of these companies. Cofounders Gunn and Muneeb Bokhari (JD '12) from the Law School, Mayank Vijayvergia from McCormick, and Paul Fehrenbacher from Feinberg were on a team together in the 2011–2012 NUvention: Medical class, where they began developing "SafeSnips"—a device that uses near-infrared technology to reduce surgical cutting accidents, which can be fatal if an artery is cut. SafeSnips met with great success during early development, winning more than $100,000 in cash and business services in the 2012 Techweek Chicago Launch competition. Briteseed was recognized as the top life science company at the 2013 Rice Business Plan Competition—the world's richest and largest graduate-level business plan competition—and placed second overall, which earned the company $238,000 in cash and investments and $41,300 in-kind awards. (The first place team, SiNode Systems, also from Northwestern, evolved from the NUvention: Energy course.)
Briteseed has raised more than $1.1 million to date and expects to take SafeSnips—still in the research and development stage—to market within the next two years.
"Through NUvention I was able to apply skills in a practical way and gain invaluable experience," said Gunn. "I brought fundamentals from my core legal education and the principles of entrepreneurial law to the team, and together we were able to create functioning technology that has real utility in the operating room."
"Bringing together students from different academic disciplines facilitates creativity and innovation," said Leslie Oster, NUvention: Medical instructor and clinical associate professor of law. "Students learn so much from each other and from the experience of applying what they've studied in the classroom to real-world situations."
JD-MBA Program
The JD-MBA program was the primary reason Divya Narendra (JD-MBA '12) came to Northwestern. He enrolled in the JD-MBA program after leaving his job at a hedge fund. "I appreciate how important it is to have a framework for understanding the law in conducting business," he said.
The Law School offers an integrated program with the Kellogg School of Management, one that provides a thorough grounding in law and business. The first three-year JD-MBA program in the country, Northwestern's program is now the nation's largest with approximately 70 students. Core curricula are complemented with elective coursework in such areas as finance, entrepreneurship, international business law, real estate law, and tax law. The interdisciplinary nature of the program prepares students to address legal and business issues in legal practice, public governance, consulting, investment banking, entrepreneurship, venture capital, and other careers. In addition to theoretical and practical training, the program offers another key asset: access to an extraordinary alumni network of 500+ JD-MBA graduates, as well as to the Law and Kellogg alumni communities, people who are working in a variety of industries across the globe.
It was through a Northwestern Law alumni connection that Narendra gained two investors for his tech start-up company, SumZero, which he launched while he was a Northwestern student. With a background in finance and business, he pulled from both industries to craft the idea for SumZero out of his interest in social media, technology, and investments. Operating on a "give and get model," SumZero offers a centralized, searchable online platform whereby professional investors working for hedge funds, mutual funds, and private equity funds can share investment ideas and network.
"I find that it is invaluable to have a working knowledge of all parts of the industry on both the legal and business sides," said Narendra, now SumZero CEO. "It has made me much more aware in my business practices, and it is also beneficial in working with clients."
Master of Science in Law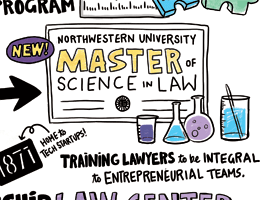 Northwestern Law's newest interdisciplinary program, the Master of Science in Law (MSL), welcomed its first class in the fall. The program is designed for professionals with backgrounds in science, technology, engineering, math, and medicine. MSL students learn how law and regulation affects opportunities, constraints, and perspectives on business goals and strategies, both locally and globally. Core courses, specialized elective classes, and experiential activities cluster in three interrelated areas: intellectual property and patent design, business law and entrepreneurship, and regulatory analysis and strategy.
"This program is tailored specifically for people working at the intersection of law, business, and technical fields such as science and engineering," said Oster, who directs the MSL program. "We've built a focused curriculum that will arm students with skills that will help them be valuable collaborators and become actively involved in the commercialization process, be it in startup settings or for established companies that innovate in the market."
"The MSL program will give these students the skills they need to communicate, manage, and lead more effectively across the combined business, legal, and regulatory specialties," added Emerson Tiller, J. Landis Martin Professor of Law and Business and Senior Associate Dean of Academic Initiatives.
A hallmark of the MSL is the Entrepreneurship Lab—modeled on the NUvention program—which will expose students to all aspects of the innovation process, from ideation to commercialization. Working in teams, students will create an idea for a business, design a prototype of the idea, draft a business plan, and address issues of entity selection and intellectual property protection.
"The Law School's ambitious development of interdisciplinary programs addresses a growing industry need to build meaningful, practical bridges across the fields of law, business, and technology," said Dean Daniel B. Rodriguez. "In an increasingly interconnected world where law and regulation are profoundly important, law schools cannot think of legal training as solely for lawyers."
This article was written by Kirston Fortune and Jennifer West, and first published in the Spring 2014 issue of the Northwestern Law Reporter.