News
Negotiation Team Wins ABA Regional Competition
November 16, 2015
A team from Northwestern Pritzker School of Law won the regional American Bar Association's (ABA) Negotiation Competition on November 14-15.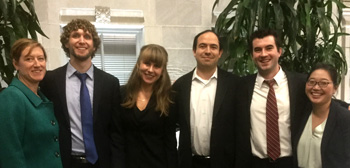 Two Northwestern Law teams—Mackenzie Drutowski (JD '16) and Jeff Wysong (JD '16), and Daisy Dong (JD '16) and Tom Horan (JD '16)—competed against 22 teams from across the Midwest. After two general rounds, Drutowski and Wysong were among the four teams that moved on to finals the following day.
During the final round, Drutowski and Wysong competed against teams from the University of Illinois and University of South Dakota and came in first place. They will compete in the national finals in San Diego early next year.
This is the third year in a row a team from Northwestern Law—coached by Alyson Carrel and Daniel Gandert, clinical assistant professors in the Bluhm Legal Clinic's Center on Negotiation and Mediation—has gone on to compete in the national ABA Negotiation Competition.