News
Executive LLM Chicago to Offer Expanded Curriculum for Global Law Grads
January 08, 2016
In 2010, the Law School established the Accelerated LLM program to provide international lawyers the opportunity to earn an LLM over the course of a single summer. This year, the ALLM will evolve into a new program: the Executive LLM Chicago (ELLMC).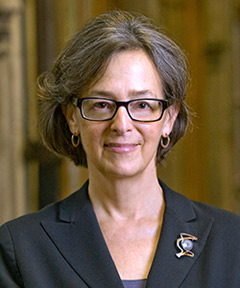 Under the leadership of Professor of Global Law and Practice Carole Silver, the program's new faculty director, the curriculum will focus on the way lawyers interact across the world with business clients and enterprises.
"The program has been most attractive to people who have quite a bit of experience. We are building on that," Silver said. "The program's core curriculum has been expanded based on consultation with lawyers practicing in elite global law firms."
The ELLMC program allows international law graduates to earn an LLM degree over the course of a single summer; students also have the option to complete coursework over two summers. In addition to the core curriculum, students will select one of two alternative tracks comprised of three courses each: one concentrates on topics related to raising capital and other methods of financing business; the other focuses on intellectual property and competition law.
In 2016, the program will launch a speaker series featuring Chicago legal and business community leaders. Students attending in 2016 also have the option of attending the Ray Garrett Jr. Corporate and Securities Law Institute at the Law School, a premier gathering of corporate lawyers and policymakers.
"This is a program for law graduates who are interested in collaborating with peers from all over the world," Silver said. "People who are intellectually curious and interested in working in English for an intense summer term, and who want to do all this in the kind of supportive and encouraging environment that Northwestern is known for."
Silver, who first taught at Northwestern Law in 1998, conducts research on the relationship between globalization and legal education, legal practice and regulation of lawyers. Her research includes studying the careers of international lawyers, the ways in which global law firms practice outside of the firms' home countries, and the role of regulation in shaping opportunities for both individual lawyers and law firms.

The ELLMC program debuting in 2016 is part of what Silver anticipates will be an ongoing process of designing educational opportunities for law graduates whose interests and needs reflect the work of global law firms and other organizations.
Applications for the ELLMC program will be accepted through February 1, 2016, for the session beginning May 2, 2016.