News
Professor Tom Geraghty Leads Collaborative Clinical Legal Education Training in Ethiopia
January 12, 2016
Continuing a long history of assisting and facilitating the development of legal education in Ethiopia, Thomas Geraghty (JD '69), director of Northwestern Pritzker School of Law's Bluhm Legal Clinic, organized a three-day conference and training workshop on clinical legal education at Addis Ababa University over the winter break. Geraghty was joined by Meredith Martin Rountree, a visiting assistant professor of law, and Rob Owen, clinical professor of law.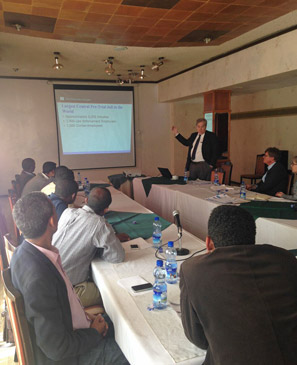 The program opened with a day of presentations and discussions, followed by two days of training designed to familiarize Ethiopian law faculty with methods and models of clinical education used in the United States.
Kimberly-Claire Seymour (JD '16) attended the conference and workshop, and spoke about the value of experiential learning from a student's perspective. She was struck by how committed Ethiopian faculty members were to providing the best possible opportunities for their students, despite significant resource constraints.
"Unreliable electricity, little access to published legal resources, lack of affordable transportation to remote client sites, and a very tense political climate are everyday challenges facing local faculty and students," Seymour said. "Despite these discouraging circumstances, our local partners were incredibly enthusiastic and welcoming of the opportunity to continue the development of clinical legal education in Ethiopia, and their unwavering dedication both to their students and to their service of vulnerable and marginalized communities was truly inspiring."
Those significant challenges meant the Northwestern Law faculty couldn't just impart best practices, but had to help develop solutions specific to the realities of Ethiopia's legal education, Rountree said.
"We can't just take an American model of clinical education and plug it into Ethiopia," Rountree said, "We need to work with our Ethiopian colleagues to adapt it to their context."
Geraghty first visited Ethiopia as a Northwestern Law student in the 1960s. He reconnected with colleagues at Addis Ababa University after the communist regime was overthrown in the 1990s to help build the country's legal education infrastructure. Understanding how important practical training through clinical work is to a quality legal education, Geraghty is committed to a series of exchanges between Northwestern Law clinical faculty and their Ethiopian counterparts.
"There is a huge expansion of legal education in Ethiopia, based in part on the demands of their growing economy." Geraghty said. "We are responding to their requests for technical assistance in this area."
He added that it's not just the Ethiopian faculty who benefit from the exchange.
"It's important for us to see how legal systems work and evolve in different environments; how of the rule of law comes to be, or not. There are interesting research possibilities for our faculty and terrific opportunities for our students to work in support of young legal educators. We get to see the thirst for knowledge in the face of a staggering lack of resources. It offers a real broadening of perspective."