News
LLM Tax Teams Win ABA National Competition
February 08, 2016
Northwestern Pritzker School of Law students took home the top prizes at the American Bar Association's (ABA) 15th Annual Law Student Tax Challenge at the ABA's Section of Taxation 2016 Midyear Meeting in Los Angeles.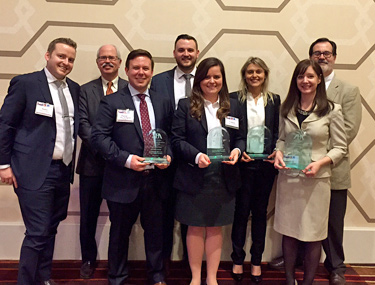 Janelle Darnell (LLM Tax '16) and Ester Santana (LLM Tax '16), coached by Professor Robert Wootton, won first place for their oral presentation. Samuel Neece (LLM Tax '16) and Colleen Redden (LLM Tax '16), coached by Professor Jeffrey Sheffield, came in second in the same competition. James Baker (LLM Tax '16) and Daniel Wharton (LLM Tax '16), also coached by Sheffield, won best written submission.
The challenge is designed to give students an opportunity to research, write about, and present their analyses of a real-life tax planning problem. There is both a JD and LLM division. Over the past nine years, Northwestern Law's LLM Tax teams won first place in the LLM division six times and won Best Written Submission four times.
"As an international student, my decision to join the competition was first motivated by the idea of having an opportunity to dig even more into the US tax law and have the possibility to work on something like a 'real world case,'" Santana, who is from Brazil, said. "I know that this is something that I will carry for the rest of my career."
"Having the opportunity to work closely with an international student and attorney has brought a whole different perspective to my studies and the legal profession. I truly believe that our success is due in large part to our diverse backgrounds and teamwork," Darnell said. "This experience is a game changer academically and professionally, but most importantly, having the opportunity to build these types of relationships with your classmates and professors makes it worth it."