News
Negotiation Team Wins National ABA Competition
February 11, 2016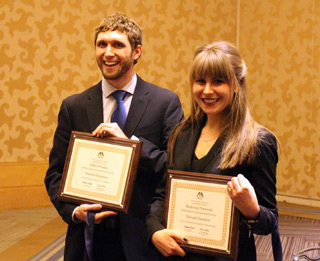 A team of students from Northwestern Pritzker School of Law won the ABA Law Student Division Negotiation Competition held at the ABA's midyear meeting in San Diego last week.
Mackenzie Drutowski (JD '16) and Jeff Wysong (JD '16), who won the regional competition last fall, beat out teams from across the country, including finalists from University of California, Berkeley School of Law and Liberty University School of Law and fellow regional finalists from the University of Illinois. The final competition required them to negotiate four different problems in two days, on the topic of information law.
"I was really enjoying my negotiations class and I thought it would be great to get more practice," Drutowski said, explaining why she decided to join the team in 2014. "My experience on the negotiations team has been a highlight of my law school experience—I learned a lot about myself as a negotiator."
"Winning was a wonderful affirmation of how much Jeff and I have learned and grown," she said. "I cannot thank everyone at the Center on Negotiation and Mediation enough for the enormous amounts of time and energy they invested in us."
This is the third year in a row a team from Northwestern Law—coached by Alyson Carrel and Daniel Gandert, clinical assistant professors in the Bluhm Legal Clinic's Center on Negotiation and Mediation, and Lynn Cohn, the Center's director—has competed in the national ABA Negotiation Competition.