News
American Bankruptcy College Honors Jeffrey Wysong
March 24, 2016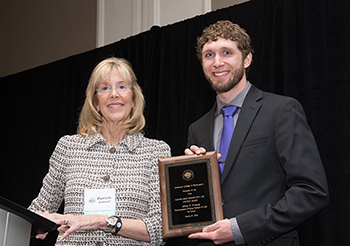 Last weekend, Jeffrey Wysong (JD '16) was honored by the American College of Bankruptcy at its annual meeting in Washington DC, as the Distinguished Law Student for the Seventh Circuit.
Wysong was one of only five students nationwide to receive the honor this year. The College established the Distinguished Law Student program in 2003 to identify and mentor students of demonstrated talent as prospective leaders in bankruptcy law.
"I am very grateful for the support of Professors Bruce Markell and David Neff," Wysong said. "During my time at the conference in DC, they went out of their way to introduce me to other leading bankruptcy lawyers and to ensure that I enjoyed my experience.
While receiving the award was an amazing honor, the best part was the opportunity to learn from the most respected bankruptcy practitioners in the United States and across the world."