News
Ceremony Celebrates 2016 Endowed Chair Appointments
March 30, 2016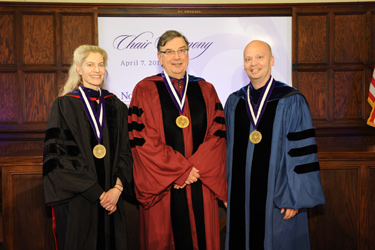 The honored faculty members include Robert P. Burns, the William W. Gurley Memorial Professor of Law; Max M. Schanzenbach, the Seigle Family Chair of Law; and Kimberly A. Yuracko, the Judd and Mary Morris Leighton Chair. Dean Daniel B. Rodriguez presided.
Alumni, faculty, students, and staff were invited to attend the ceremony, which took place in Lincoln Hall on Thursday, April 7 at 4:00 p.m. followed by a reception.
Robert Burns teaches evidence and professional responsibility in the Bartlit Center for Trial Advocacy and courses in civil, criminal, and administrative procedure. He received the Dean's Teaching Award in 2009 and 2006, and received the Robert Childres Memorial Award for Teaching Excellence in 2002, 1998, and 1996. He is author of Kafka's Law: The Trial and American Criminal Justice, published in 2014 by University of Chicago Press; A Theory of the Trial, published in 1999 by Princeton University Press; and The Death of the American Trial, published in 2009 by the University of Chicago Press. The last received a Choice Outstanding Academic Title Award in the Social and Behavioral Sciences for 2009. He is also author of student texts and workbooks in evidence, professional responsibility, and trial advocacy, and many articles and book chapters.
The William W. Gurley Memorial Professor of Law was established in 1975 through a bequest from Helen K. Gurley in memory of her father, a distinguished member of the Chicago Bar and general counsel to a number of major business firms.
Max Schanzenbach's research is primarily empirical and has ranged across such fields as trusts and estates, criminal sentencing, public sector employment, and tort reform's impact on healthcare markets. His work has appeared in leading law reviews, such as the Yale Law Journal and the University of Chicago Law Review, as well as law and economics journals, such as the Journal of Legal Studies, the Journal of Law and Economics, and the Journal of Law, Economics, & Organization. He has been co-editor in chief of the American Law and Economics Review since 2012. He joined the Northwestern faculty in 2003 as an Assistant Professor of Law. He was previously the Benjamin Mazur Professor of Law. In the Spring of 2008, he was the Bruce W. Nichols Visiting Professor of Law at Harvard Law School.
The Seigle Family Chair of Law was established in 2015 by Harry J. Seigle, a member of the class of 1971. Mr. Seigle served as president and chairman of Seigle's, which he led to become Chicagoland's largest building products supplier. A noted civic leader, he also founded The Elgin Company, a family office devoted to investing and philanthropy.
Kimberly Yuracko's primary research interests are in antidiscrimination law with a focus on sex discrimination in employment and gender equity in education. She teaches courses in employment law, property, and family law. She joined the Northwestern Law faculty in 2002 after serving as a Visiting Assistant Professor of Law for the 2001–2002 academic year. She served as Associate Dean for Academic Affairs: Faculty and Research from October 2009 through December 2010. From January 2011 through December 2011 she served as Interim Dean of the Law School. Her second book, Gender Nonconformity and the Law, was published in 2016 by Yale University Press. Her first book, Perfectionism and Contemporary Feminist Values, was published in 2003 by Indiana University Press. She is a co-author of the casebooks Employment Law Cases and Materials and Feminist Jurisprudence: Cases and Materials, and is the author of numerous articles.
The Judd and Mary Morris Leighton Chair was established in 1989 by Judd and Mary Morris Leighton. Mr. Leighton, a 1947 graduate of the Law School, served as chairman and chief executive officer of Benicia Industries Inc., and as a director of several corporate boards during his career.
An appointment to an endowed chair is the highlight of an academic career, and these important positions help the Law School attract and retain distinguished faculty.