News
Children and Family Justice Center, Chicago Housing Authority to Launch Juvenile Reentry Assistance Program
April 27, 2016
As part of a national effort to assist young people who have had juvenile justice system involvement, the United States Department of Housing and Urban Development (HUD) and the Department of Justice (DOJ) launched a multi-state, multi-million dollar initiative to create the Juvenile Reentry Assistance Program (JRAP). The program is designed "to address the challenges justice-involved individuals face when trying to find work and a place to call home."
On Monday, April 25, HUD and DOJ announced that the Children and Family Justice Center (CFJC) at Northwestern Pritzker School of Law will partner with the Chicago Housing Authority (CHA) in the implementation of a program designed to assist system-involved youth in Chicago achieve successful transitions to adulthood.
The program will provide eligible CHA youth with information, legal representation, and social work support to alleviate the collateral consequences associated with a juvenile criminal record.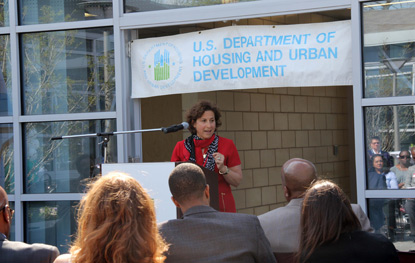 "The promise that youthful transgressions will not follow young people for life is simply not true," said Julie Biehl (JD '86), Clinical Associate Professor of Law and Director of the Children and Family Justice Center, at the press conference announcing the grant.
"Even children who are arrested and not convicted have a juvenile record. Those records follow them into adulthood and can seriously undermine their efforts to build lives for themselves by limiting their opportunities for school, housing, and jobs."
JRAP will assist eligible youth with expunging, sealing, and/or correcting juvenile or adult records as permitted by State law; it will also coordinate support services to mitigate collateral consequences. For example, JRAP attorneys will provide counseling regarding legal rights and obligations in searching for employment, reinstating revoked or suspended drivers' licenses, obtaining readmission to school, and creating or modifying child support orders and other family law matters.
The program was announced at the beginning of National Reentry Week, a new initiative to bring awareness to issues of fairness in the United States criminal justice system.
"Reconnecting young people who've paid their debt to society to decent jobs and housing allows them to turn the page and become active, productive members of their communities," said HUD Secretary Julián Castro. "These grants offer a helping hand to those who deserve a second chance so they have a real opportunity to reach their full potential."