News
Northwestern Law Debuts Topical Podcast with Legal Talk Network
July 15, 2016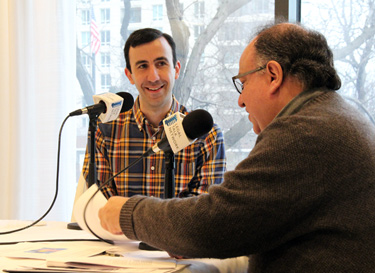 Northwestern Pritzker School of Law is thrilled to announce the launch of the Planet Lex podcast, a series of conversations about the law today and its role within the ever-changing global, societal, and technological landscapes. Hosted by Dean Daniel B. Rodriguez and produced by the Legal Talk Network, each episode features interviews with thought leaders on the selected topic, including several prominent Northwestern faculty members.
"This podcast series gives us a special opportunity to discuss key issues in law, public policy, and innovation," said Dean Rodriguez. "We will engage opinion leaders around exciting topics in a format that is both intense and fun."
The first three episodes debuted today, with nine additional episodes coming over the course of the next year.
Episode 1 of Planet Lex features a conversation with Steven Drizin and Laura Nirider, clinical professors in the Bluhm Legal Clinic's Center on Wrongful Convictions of Youth, about youth interrogation, false confessions, and their representation of Brendan Dassey, one of the defendants featured in the hit Netflix series Making a Murderer.
In episode 2, Rodriguez speaks with Professor Peter DiCola about evolving music copyright law, how new technology has affected the industry, and the impact on artists.
In episode 3, Rodriguez talks to Professors Emerson Tiller and Leslie Oster about the need for multidisciplinary education in today's more global marketplace, and the value legal knowledge can add. They also discuss the unique Master of Science in Law program for STEM-trained professionals offered at Northwestern Pritzker School of Law.
Podcast episodes can be found on the Northwestern Law website, and listeners can subscribe via iTunes or download the free Legal Talk Network app for iPhone or Android.