News
New Practicum Lets Students Lead Restorative Justice Initiatives
August 04, 2016
Most law school classes don't involve sitting in a circle, facing the rest of the class, talking about problems that have come up during the week, and sharing ideas on how to solve them, but that's what happened each week in the Restorative Justice Practicum taught by Annalise Buth, the first M.R. Bauer Foundation Clinical Fellow in Dispute Resolution with the Bluhm Legal Clinic's Center on Negotiation and Mediation.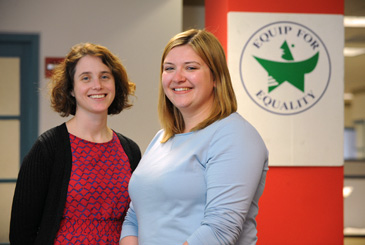 "It's not like a law school class that I've been in, in the best way ever," said Laura Pone (JD '16), one of the eight students in the Spring 2016 practicum, the first offering of the course.
The practicum—where students work twelve hours per week at organizations in the community and meet weekly as a group for a corresponding seminar—is an expansion of the Center on Negotiation and Mediation's offerings related to restorative justice, a practice that focuses on repairing harm.
"Restorative justice requires a shift in the way we think about wrongdoing," said Buth. "Instead of looking at what law or rule was broken, who did it and how to punish them, restorative justice asks – what was the harm, who was harmed, and how do we repair it?"
At the beginning of the semester, the class went through an intensive two-day training on leading circles, a core practice of restorative justice based on indigenous traditions. They used the circle framework throughout the semester during class time.
"It's a value-based communication process that can be used for resolving conflict, community-building, and healing," said Buth.
Students in the practicum were able to see how restorative practices could work not just in the outside world, but within their law school experiences.
"I left our training saying every first year student in every law school in America needs to sit in a circle during October of their 1L year, because it's a really stressful time and just knowing everyone's on the same page, I think that would be a really powerful thing," said Pone.
Buth and the Center on Negotiation and Mediation have facilitated community circles at the Law School—including one led by Pone and others at the end of the Spring 2016 semester— and will continue to do so in the coming years, "bringing restorative practices to our own community, giving people a chance to share their experiences and hear others."
Outside of the classroom, students saw the different ways restorative justice could impact communities.
After taking multiple negotiation and mediation classes, and serving as a teaching assistant for a negotiations course, Pone was interested in continuing to examine alternative ways to resolve conflict, while also branching out into the public interest sphere before leaving law school. Her placement with Equip for Equality, the federally-appointed advocacy organization providing legal services to people with disabilities for the state of Illinois, provided that opportunity.
During her externship with Equip, Pone worked on the team dealing with students where her duties included helping to draft a toolkit for Chicago Public School administrators.
"I specifically looked at how to adapt restorative practices for kids with special needs. There are a million different ways to do restorative justice and if you have a student with a disability, there may be a different method that you use or a way to adapt existing methods to make everyone comfortable and still ultimately achieve the goals of a restorative practice."
Kelly Mennemeier (JD '16), another student in the practicum, worked for Lawndale Christian Legal Center (LCLC) for her placement. LCLC provides legal services to youth, taking a holistic approach that pairs them with social workers and mentors.
In her practicum placement, Mennemeier put together mitigation packages—information and letters given to the Court supporting their clients in the hopes of reducing sentences—and attended meetings as LCLC and other Lawndale organizations prepare to help pilot the City of Chicago's first restorative justice community court.
"The juvenile court system has the possibility of being restorative justice-oriented. The kids build longer-term relationships with judges so there are opportunities for them to grow and prove themselves successful," Mennemeier said.
Pone, who will join the Chicago office of Quarles & Brady in the fall, said that even though she is entering into a more traditional practice, she expects to bring the skills she learned through restorative justice into her work and hopes more lawyers do the same.
"Having more people exposed to this mindset is a big thing. Acknowledging that there are other options out there, that maybe the way we've always done things isn't the best. Restorative justice practices help you relate to people better and make you a better listener."
Mennemeier, who will do a yearlong clerkship in Alaska before joining Seattle firm Foster Pepper, agreed that the teachings of restorative justice can be more widely applied.
"One of the things that I've taken away from the class and from my practicum is that there isn't just one model for restorative justice, and there are ways that one can live or practice restoratively without having formal circles or victim-offender dialogues—so I hope to incorporate that into my life."