News
Woodger Faugas Named Chicago Area Schweitzer Fellow
August 12, 2016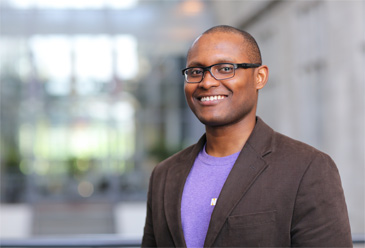 Woodger Faugas (JD '17) joins the Chicago Area Schweitzer Fellows Class of 2016-2017. The fellowship is part of a joint program between the Health & Medicine Policy Research Group (HMPRG) and the Albert Schweitzer Fellowship (ASF).
The program seeks health-focused graduate students across a variety of disciplines, with the goal of developing a corps of emerging professionals who will enter the workforce with the skills and commitment to address health disparities.
With plans to professionally serve others through working at the intersection(s) of law, medicine, and entrepreneurship, Faugas has long been interested in affecting society's "social determinants of health." Through his past work as an AmeriCorps member, public school teacher, and leader of an immigrant rights-based nonprofit ––and his recent experience as a volunteer at Lurie Children's Hospital of Chicago ––he has demonstrated an understanding of the importance of service and the need to address the systemic forces that shape the conditions of daily life.
Faugas's journey as a Schweitzer Fellow began with inspiration from a TED Talk on the concept of "grit" given by Angela Lee Duckworth, a psychologist and MacArthur genius grant winner. He then looked into research showing that success, in the face of entrenched societal marginalization, can have adverse consequences on people's physical and emotional health.
"It's called 'John Henryism'—a coping strategy emanating from when people grapple with pursuing their goals in the face of intense social discrimination, which can lead to mounting physiological costs, if time isn't taken to think about, and nurture, health and wellbeing," Faugas said.
His project with the Schweitzer Fellowship, which will total at least 200 hours over the course of this coming academic year, will involve mentoring and teaching coping skills, and other mental health wellness strategies, to student populations that are vulnerable to this phenomenon.
In crafting the proposal for his service project, Faugas received guidance from Professor Monica Llorente (JD '00).
"Without her support, I have a hard time imagining how this would have all happened," he said. "Through a class that I've taken with her, I not only grew to internalize and appreciate the importance of service and leadership, but also became cognizant of several key legal, and non-legal, ideas that will be useful in the legal profession and beyond."
Faugas, who had accumulated over 450 hours of public service in his first year of the Accelerated JD program, hopes to share, with mentees, a number of wellness methods and leadership skills that will incrementally lead to a more equitable and healthy society.