News
Sara Hays (JD '89) Chosen as Law Board Chair
October 10, 2016
Northwestern Pritzker School of Law is excited to announce that Sara Hays (JD '89, MBA '00) has been selected as chair of the Northwestern Law Board. She began her 2-year term at the start of the new fiscal year in September.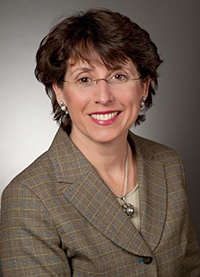 Hays is currently the managing director and co-leader of the North American Board Practice for Allegis Partners based in the Chicago office.
Hays has several decades of experience in business leadership roles working with C-suite and senior-level executives in the commercial real estate, finance, and hospitality industries as well as more than 20 years of board service spanning public, private and non-profit organizations in a variety of leadership, advisory, and committee roles. She most recently served as principal of SLH Advisors, offering project management and consulting services to companies undertaking complex transactions. Before launching her consulting practice, she served as the managing director, operations, and general counsel of Wrightwood Capital LLC (now part of Ares Management LLC). Before joining Wrightwood Capital, Hays spent more than 10 years at Hyatt Hotels, ultimately serving as senior vice president and general counsel and as a member of Hyatt's Managing Committee.
The Northwestern Law Board is dedicated to advancing the Law School to the top tier of American law schools. The Board assists in framing the basic direction of the school and monitors the implementation of strategic plans. It supports and advises the dean, the administration, and the faculty in areas including curriculum, faculty, financial support, research, admissions, placement, student life, planning, and resource allocation. The Board also acts as an advocate for the Law School in the legal profession, business community, and general public.