News
Alum Andrew Stroth Expands Access to Civil Rights Representation
October 26, 2016
The people sitting across the table from someone like Dwyane Wade or Donovan McNabb working on an endorsement deal aren't usually the same people sitting in a living room across from a mother whose son has just been shot and killed by the police, but one Northwestern Pritzker School of Law alumnus has built a career doing exactly that.
After over a decade and a half as a successful agent, Andrew M. Stroth (JD '99) decided he wanted to move beyond the sports and entertainment worlds, and created the Action Injury Law Group, a civil rights firm focused on filing federal Section 1983 cases on behalf of victims of police-involved shootings and injuries.
"Two years ago, God gave me a vision to create a civil rights law firm. Since I've become a lawyer, I get asked by a lot of people when they have legal problems or questions, who they should go to," Stroth said.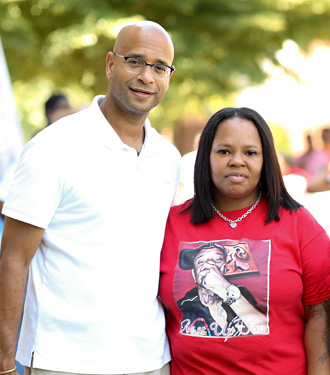 "If you're not playing in the NBA or the NFL, or you're not a TV personality, then I'd always refer the client to someone else. Then I decided, given the relationships I have in the community, let me create a civil rights firm that's dedicated to serving the African American community—with a distinct focus on the south and west sides of Chicago, where a lot of folks don't have access to quality legal counsel."
Stroth's firm represents victims or their families in five high-profile police-involved shooting or injury cases pending in the Chicagoland area currently, including the case of Pierre Loury, a 16-year-old boy shot and killed by a Chicago police officer in April.
"The police narrative is Pierre jumped over a fence, grabbed a gun and shot at the officers. From the evidence we have, and witnesses and video, you see a 16-year-old boy running away from the police and the police executing him."
Action Injury also currently represents: Rayshon Gartley, a young man receiving treatment in the psychiatric wing of Jackson Park Hospital who was captured on surveillance video being beaten while handcuffed by a Chicago police officer in 2014; the family of Justus Howell, a 17-year-old boy who was fatally shot by a Zion police officer in 2015; the family of Charles Hollstein, a 38-year-old man fatally shot by Zion police in 2016; and the family of Martice Milliner, a man who was shot and killed by Chicago police in 2015.
"We're the group that gets called when something bad happens in the community. When someone gets shot by the police or injured by the police unjustly, Action Injury is the law firm that is going to mobilize and go into the community and represent those victims."
Stroth's vision for the firm is to provide access to quality legal representation to those who don't often have it, to provide justice to those who don't often get it.
"We want to bring the law to the streets. The reason we get clients is based on our equity in the community. We have longstanding, authentic relationships with barbers, hair stylists, community activists, and pastors. We have smart, intellectual minds and great trial lawyers, but we also have a sensibility and access to people on the ground."
At a July event celebrating Loury's life and what would have been his seventeenth birthday, Loury's mother Tambrasha Hudson explained why she chose Stroth's firm.
"In the midst of everything that was going on, I had several lawyers come to me. There was a lot of confusion going on. But when Andrew came, he calmed the storm, and we just agreed as a family that he would be a better lawyer for us," she said.
Stroth believes his time as a student at Northwestern Law and the relationships he's sustained since have both contributed to his successful career thus far and will continue to benefit him as he continues down this new path.
"Whether it's negotiating a deal for Dwyane Wade or representing a family from the west side of Chicago, a lot of the skills I've learned at the clinic and at the Law School have helped me to this day."
As a student, Stroth was involved in the Bluhm Legal Clinic and even helped bring then-State Senator Barack Obama to speak at Lincoln Hall during the Law School's Diversity Week in 1997. He has also taught as an adjunct professor in the Clinic's Center on Negotiation and Mediation.
"Northwestern Law has changed my life […] because of the people I've met and the experiences I've had. I'm at a point in my career where I want to effectuate real change in our communities and […] Northwestern Law has really been a part of that."
Looking ahead, Stroth is optimistic about the difference Action Injury can make—even hoping to one day put himself out of a job.
"It's our vision that ultimately there won't need to be firms like ours, because these tragedies aren't happening every day. But as we've seen in recent weeks, every week there's another police-involved shooting, and in many cases it's a white officer and a black victim. We want to bring justice and completely disrupt and change the game as it relates to civil rights in America."
The desire and hope for change is something Stroth and his clients share.
"I'm just tired of all the violence. I want to do something positive in the community to show them that," Hudson said, surrounded by dozens of friends, family members, and community activists at the celebration, which took place only blocks away from where her son was killed. "We're trying to bring the 'neighbor' back in the neighborhood. We're turning this tragedy into togetherness. I don't want anybody else to have to go through what I'm going through."