News
Bartlit Center Teams Place First and Second at Regional ABA Trial Competition
November 09, 2016
Teams from Northwestern Pritzker School of Law's Bartlit Center on Trial Advocacy captured both first and second place at the Midwest Regional ABA Labor Law Trial Competition held in Chicago November 5 and 6.
In the all-Northwestern final round, the team of Michael Ovca (JD '17), Patrick Cordova (JD '17), Brooke Troutman (JD '18) and Brenna McLean (JD '17) narrowly defeated colleagues Heidi Savabi (JD '18), Joey Mintz (JD '18), Christian Segar (JD '17) and Dana Amato (JD '17).
The competition included eight teams and both student teams were undefeated until they competed against each other in the final round.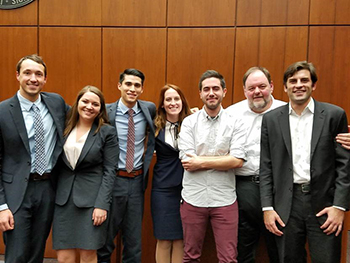 Ovca, Cordova, Troutman and McLean will now go on to compete for the national championship in New Orleans in January.
"I am very proud of our Bartlit Center trial team for winning the ABA Labor and Employment Student Trial Advocacy Competition," said head coach Rob Robertson of Robertson Duric. "Our continued success is a testament to the exceptional students that Northwestern continues to produce.
"Those students are consistently talented, knowledgeable, hard-working and exhibit the professionalism that is the bedrock for our calling. It was particularly gratifying this year as the two teams entered from Northwestern both reached the regional finals," Robertson said.
Steven Lubet, director of the Bartlit Center and the Williams Memorial Professor at Northwestern Law, said Robertson and his students represent the best traditions of the Law School.
"They are smart, creative and honorable," Lubet said. "It speaks volumes about Rob's leadership that so many alumni return to coach the team year after year."
Additional coaches -- all of whom are trial team alumni -- include Mark Duric (Robertson Duric), Kendrick Washington (U.S. Department of Education), Anne Yonover (law clerk to Hon. Charles Kocoras), Andrew Cockroft (Seyfarth Shaw LLP), Jorge Gamboa (Gamboa Law), Michael Bruzik (City of Chicago Department of Law) and Andrew Gilbert (Greenberg Traurig LLP).