News
Allyson Bain (JD '16) Awarded Prestigious Skadden Fellowship
December 13, 2016
Allyson Bain (JD '16) has been selected as a recipient of the prestigious Skadden Fellowship, one of only 30 awards granted for 2017 by the Skadden Foundation. For the next 2 years, she will work with the Roger Baldwin Foundation—the 501 (c)(3) arm of the ACLU of Illinois—to expand access to, and improve, mental health treatment for low-income children. In particular, Bain will focus on reducing forced institutionalization and expanding community-based mental health systems.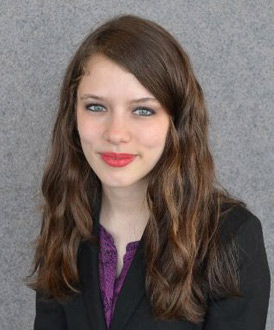 "For communities that may otherwise go unheard, such as individuals with disabilities, public interest work is essential in correcting discriminatory practices and carving out additional protections so that individuals no longer feel burdened by their differences," said Bain, who has a long track record of meaningful public interest work.
Prior to law school, she was instrumental in the Illinois Restroom Access Act or "Ally's Law", which allows individuals experiencing a medical emergency to access employee-only restrooms in retail establishments. She also worked at the U.S. Department of Justice's Civil Rights Division, where she investigated violations of the Americans with Disabilities Act.
While in law school, Bain spent two semesters in the Bluhm Legal Clinic's Children and Family Justice Center, representing juveniles who had been accused of committing crimes. She also served as president of Northwestern Law's Disability Law Society and was the senior articles editor for the Journal of Law and Social Policy. Bain returned to the Department of Justice's Civil Rights Division during one of her summers, where she worked on litigation enforcing the rights of persons with disabilities. Currently, she is a clerk for a judge at the United States District Court for the District of Columbia.
"Ally's dedication to helping those in need before, during, and after law school is a proud reflection of the values of service and direct impact that Northwestern Law holds. We are delighted by the work on which she is about to embark. We are also very grateful to the Skadden Foundation for recognizing Ally's commitment to public service and for supporting her as she begins her career as a public interest lawyer," said Katie Shelton, associate director of public interest at the Law School.
The Skadden Fellowship Program, established in 1988, provides funding for graduating law students to pursue their own projects providing legal services to the poor, the elderly, the homeless and the disabled, as well as those deprived of their civil or human rights.