News
Bartlit Center Trial Teams Excel in ABA Labor Law and National Trial Competitions
January 31, 2017
A team from Northwestern Pritzker School of Law's Bartlit Center for Trial Advocacy captured first place at the National Trial Competition regional event held at Valparaiso University Law School, January 26-29. Stacy Kapustina (JD '17), Douglas Bates (JD '17), and Garrett Fields (JD '18) defeated teams from the University of Illinois, Indiana-Indianapolis, and Loyola Chicago to win the tournament. They will compete for the national championship in Ft. Worth, Texas in March.
Another Bartlit Center Team—Natasha Karamally (JD '18), Deven Klee (JD '18), and Brendan Gerdes (JD '18)—took second place in the other bracket of the same tournament. Both teams were coached by Rick Levin of the Levin Riback Law Group.
"Our students are extremely talented and dedicated," Levin said, adding "in ten years of coaching, Stacy Kapustina is the only student who has qualified for the national finals in both her 2L and 3L years."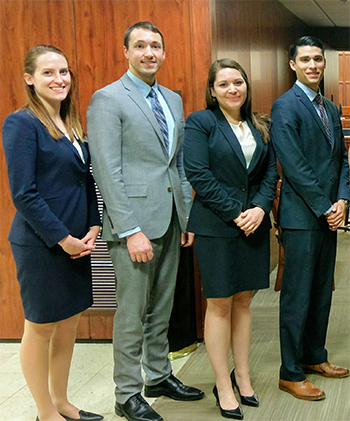 Over the same weekend, Brenna McLean (JD '17), Patrick Cordova (JD '17), Michael Ovca (JD '17), and Brooke Troutman (JD '18), advanced to the final round and captured second place at the national ABA Labor Law Competition in New Orleans, after winning the Midwest Regional in the fall. The team was coached by Robert Robertson and Marko Duric (JD '12) of Robertson Duric, and Kendrick Washington (JD '10) of the U.S. Department of Education, Office for Civil Rights.
"This has been a year of tremendous success for our ABA Labor Law teams, who have put in countless hours perfecting their skills, while maintaining the highest standards of professionalism," Washington said.
"What stood out about these exceptional students, among many other things, was that they possess the skill and the character to enter any courtroom in the country and try real cases," added Duric.
"This is the first time that three Bartlit Center trial teams have reached competition finals in a single weekend," said Professor Steven Lubet, the director of the Bartlit Center for Trial Advocacy. "Our students are outstanding and our coaches are exemplary. We are tremendously proud of all of them."