News
Justice Richard Bernstein (JD '99) to Address Law School Class of 2017
February 13, 2017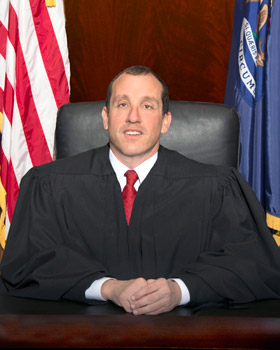 Northwestern Pritzker School of Law is thrilled to welcome Justice Richard Bernstein (JD '99) of the Michigan Supreme Court, to deliver the main convocation address to the Class of 2017. Convocation will be held Friday, May 12 at 1:30 p.m. at the Chicago Theatre, 175 N. State St., in Chicago.
Justice Richard Bernstein was elected to the Michigan Supreme Court in November 2014. He began his 8-year term in January 2015.
Blind since birth, Bernstein has a long history of advocating for disabled rights. Prior to being elected to Michigan's highest court, Bernstein headed the public service division for The Sam Bernstein Law Firm in Farmington Hills, Michigan. His cases often set national standards protecting the rights and safety of people with and without disabilities.
In a landmark settlement against Delta Airlines and Detroit Metro Airport, Bernstein gained accessibility for disabled fliers, helping set the standard for which airlines and airports are to be covered under the Americans with Disabilities Act of 1990. He also challenged the City of New York to make Central Park and all parks safer for visitors and accessible for disabled and visually-impaired individuals.
Bernstein has received many honors including: "Michiganian of the Year" from the Detroit News, one of Crain's Detroit Business' "40 Under 40," and recognition on worldwide television by CNN as a leader in keeping government honest.
Additional information on graduation week events can be found on the Convocation page.