News
Professor Juliet Sorensen Named New Bluhm Legal Clinic Director
March 27, 2017
Dean Daniel B. Rodriguez's message to the Northwestern Law community on naming Professor Juliet Sorensen the new Bluhm Legal Clinic Director:
After a considered, comprehensive process, I am pleased to announce the appointment of Professor Juliet Sorensen as the next associate dean of clinical education and director of Northwestern Law's Bluhm Legal Clinic. Her appointment is effective with the new academic year, following the end of Tom Geraghty's extraordinary service as director.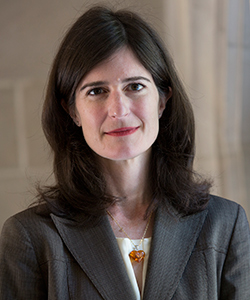 In Juliet, I know that we have an accomplished, energetic leader for the Bluhm Legal Clinic as we embark on this next stage in the great journey of excellence and impact of clinical education at Northwestern. Juliet Sorensen is a professor in our Clinic, joining us in 2010, and currently serves as the Harry R. Horrow Professor in International Law. Professor Sorensen is associated with our Center for International Human Rights, and her areas of focus include health and human rights, public corruption, and international criminal law. She is the founder of the Northwestern Access to Health Project, an interdisciplinary initiative focused on human rights, health and development in communities around the world that utilizes teams from our law school, Kellogg School of Management, and Northwestern's Masters in Public Health program to assess and implement health and human rights projects in in Ethiopia, the Dominican Republic, Mali, Nigeria and Lebanon, among others developing nations. She is a faculty affiliate of the Buffett Institute for International Studies and the Program of African Studies, on whose executive committee she also serves.
Professor Sorensen is the representative member of the Center for International Human Rights in the United Nations Convention against Corruption Coalition, and has twice led delegations to the Conference of States Parties to the UN Convention against Corruption, where she and her students organized sessions on corruption in an era of climate change and the students reported on the conference for the American Bar Association and the "FCPA Professor" blog. She is a member of the ABA Working Group on Crimes against Humanity and the ABA Global Anti-Corruption Task Force.
She is the co-author of Public Corruption and the Law: Cases and Materials, published earlier this year by West. She is a co-author and signatory of the amicus brief in District of Hawaii v. Trump recently filed by international law scholars and non-governmental organizations in support of the plaintiff.
Juliet Sorensen is a graduate of Princeton University and Columbia University School of Law. Prior to entering law school, she served as a maternal and child health volunteer with the U.S. Peace Corps for two years in rural Morocco. After graduating from law school, she clerked for the Honorable George O'Toole and worked at Foley Hoag LLP in Boston for two years before moving to Chicago, where she worked as an assistant U.S. Attorney for nearly seven years before joining the faculty of the Bluhm Legal Clinic. At the U.S. Attorney's Office, Professor Sorensen's cases including included a multi-agency investigation of corruption at the City of Chicago Department of Buildings and Zoning, an international investigation into a foreign service officer taking bribes in exchange for issuing visas (for which she was formally commended by the Department of State), as well as an international investigation into a leader and perpetrator of the Rwandan genocide.
I know you will join me in congratulating Juliet on this appointment and I know that she welcomes your support and advice as she transitions to this role.