Student Wellness

What is wellness?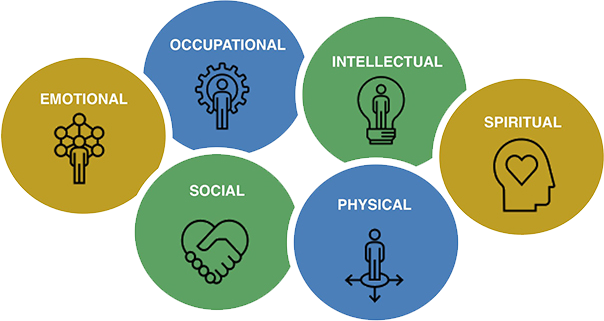 Wellness is much more than physical health, exercise, or nutrition. It is the full integration of states of physical, mental, and spiritual well-being. Northwestern Law takes a holistic approach to wellness by focusing on six key facets. The model used by the Law School includes emotional, occupational, intellectual, spiritual, physical, and social wellness to promote balance in our lives. Be Well at Northwestern Law programming keeps these facets in mind to make sure that your entire wellness is being supported.
| | |
| --- | --- |
| Emotional | Recognizing and expressing feelings in healthy ways |
| Occupational | Cultivating personal satisfaction, growth, and enrichment in work; financial stability |
| Intellectual | Being actively engaged in creative and mentally stimulating activities |
| Spiritual | Understanding beliefs, values, and ethics that help guide you |
| Physical | Maintaining a healthy quality of life through physical activity, proper nutrition, and restful sleep |
| Social | Creating and maintaining healthy relationships |
How does wellness fit into law school and the legal profession?
The work of a lawyer is incredibly meaningful and rewarding, but is also demanding and stressful. High levels of professional expectations and demands are stressors that can take a toll on one's physical, social, and mental health. Law students are not immune to these pressures. Lawyers and law students show high rates of experiencing depression, anxiety, and substance abuse. At Northwestern Law we offer unique, tailored programming to proactively address the rising prevalence of mental health issues with wellness and prevention programs.
Our Programming 
Be Well at Northwestern Pritzker School of Law
At Northwestern Law, we recognize that your personal growth and wellbeing are as vital to your success as your intellectual development as a lawyer. Therefore, we develop and offer a robust slate of programs that support your holistic wellness as you progress through your legal education.
Monthly Wellness Programming
Weekly Wellness Programming
Each month the Law School hosts substantive programs focused on topics such as:

Perseverance and determination
Managing and relieving stress
Resiliency

Each week there are several activities for students to to de-stress, relax, and engage with classmates. Programs include:

Mindfulness Meditation with Professors Len Riskin & Cliff Zimmerman
Yoga for Law Students
Cardio HIIT Workouts
World Mental Health Awareness Day: Every October, the Law School observes World Mental Health Awareness Day by offering programs for the entire NLaw community.
Wellness Week: Each year, Be Well at Northwestern Law hosts Wellness Week. This is a week dedicated to the promotion of both physical and mental health. Events range annually, but all address the vital role individual health and wellbeing plays in professional and personal success.
Mindfulness Meditation Recordings
Check out these eleven pre-recorded mindfulness mediation sessions so you can focus on your wellness whenever, wherever. All sessions are guided by Professor Cliff Zimmerman. Simply click on the title of a mindfulness meditation session in the playlist below to listen.
Upcoming Programming
March 9
The Lawyer Happiness Factor: Applying Science to Enjoy Law School and Beyond (pdf)
March 3, 29 and April 12, 20
Sit in Sound | Crystal Singing Bowls (pdf)