Children and Family Justice Center
In testimony to the Chicago City Council, CFJC Policy Director Stephanie Kollmann, explains why Mayor Lightfoot's proposal to impose new curfew restrictions on 17-year-olds is draconian and "the wrong move at the wrong moment."

Kollmann also points out that the proposal contradicts the city's official reduction policy, which does not encourage more police engagement with youth and explains that criminal justice involvement can increase the risk of violence.

"In contrast to the violence reduction plan and against the advice of members of the Violence Prevention Planning Committee and Research Advisory Council Participating Organizations, the proposed curfew ordinance will increase intrusive physical contact from police officers against teenagers who are not suspected of being engaged in any other municipal or criminal violation," according to Kollmann's testimony. "By raising the curfew age, police will also increase stops of young adults violating no law at all based on officer's impression that they look younger than 18."

Kollmann argued that Chicago teens and parents have not had sufficient time to consider the curfew changes and many may not even be aware of the scope of the ordinance or its practical meaning.

"The last thing that Chicago teens need right now is to be told to get back in the house," Kollmann said in the testimony. "The last thing that Chicago needs right now is emptier streets. Teenagers learn how to behave appropriately in public by being in public, rather than being abruptly shoved off a 'supervision cliff' on their 18th birthday. The City of Chicago can promote peace and safety while enabling the presence of youth in public."
---
NPR's "All Things Considered" turned to CFJC's Shobha L. Mahadev for an explanation of the felony murder charge in Arbery trial
Following the felony murder convictions of three men in the shooting death of Ahmaud Arbery, NPR's "All Things Considered" turned to CFJC's Shobha L. Mahadev for an explanation of felony murder. 

Shobha, a clinical professor of law, said the felony murder charge is an exception to the idea that only the person intending to commit a murder should be held responsible. "(A felony murder) conviction arises from your conduct and your intent to commit another felony, and then that felony is connected to murder itself," she said. "So felony murder is actually kind of a different way in which we hold people responsible for murder, even if they don't intend to commit murder at all or cause a death."

Unlike the Arbery case, where all of the defendants were white men, prosecutors more often use the felony murder charge to secure a lengthy prison sentence for youth, women and Black defendants who have been present at a crime that resulted in a death but did not have an intent to murder.

Shobha said some states have modified felony murder statutes to narrow their scope and noted that even without the option of felony murder, prosecutors can secure (procure?) long prison sentences by charging other felonies at the root of the felony murder charge.

Earlier this year, Shoba and Steven Drizin, co-director of the Center on Wrongful Convictions, published a detailed look at the history and impact of felony murder in The Appeal.
---
The answer to that question is best answered by the young people living it 24/7. CFJC went inside the prisons to ask that question and many more. You'll find some of the answers in our latest installment of CFJC's series Community Safety & the Future of Illinois' Youth Prisons.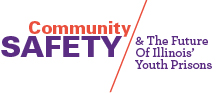 Between July 2019 and July 2020, we hosted more than 30 convenings of youth behind the walls and additional convenings of discussions with staff and incarcerated adults who previously were held in youth prisons. Most were conducted in person, but videoconferencing was used for all conducted after the pandemic took hold in March.

"Overall, the youth reported feeling shamed, criminalized, and punished, but not prepared for reintegration into broader society," according to the report.
The series of reports is the result of a multi-year research endeavor by the Children and Family Justice Center.  The research included interviews with a wide variety of policymakers, a survey of over 150 stakeholders, the collection and analysis of data about the state's justice system, and an extensive review of academic and practitioner research. The series will culminate in a detailed set of recommendations, consistent with calls from researchers and practitioners nationwide, for a five-year plan to end Illinois' use of large, adult-modeled prisons for youth and to expand alternatives to incarceration. Find each installment on our Youth In Custody section. 
---
Juvenile Justice During the Coronavirus Pandemic
In a recent Planet Lex podcast, CFJC Director Julie L. Biehl explained efforts to release juveniles from prison during the Covid-19 pandemic, and explained her vision for the future of juvenile justice.
---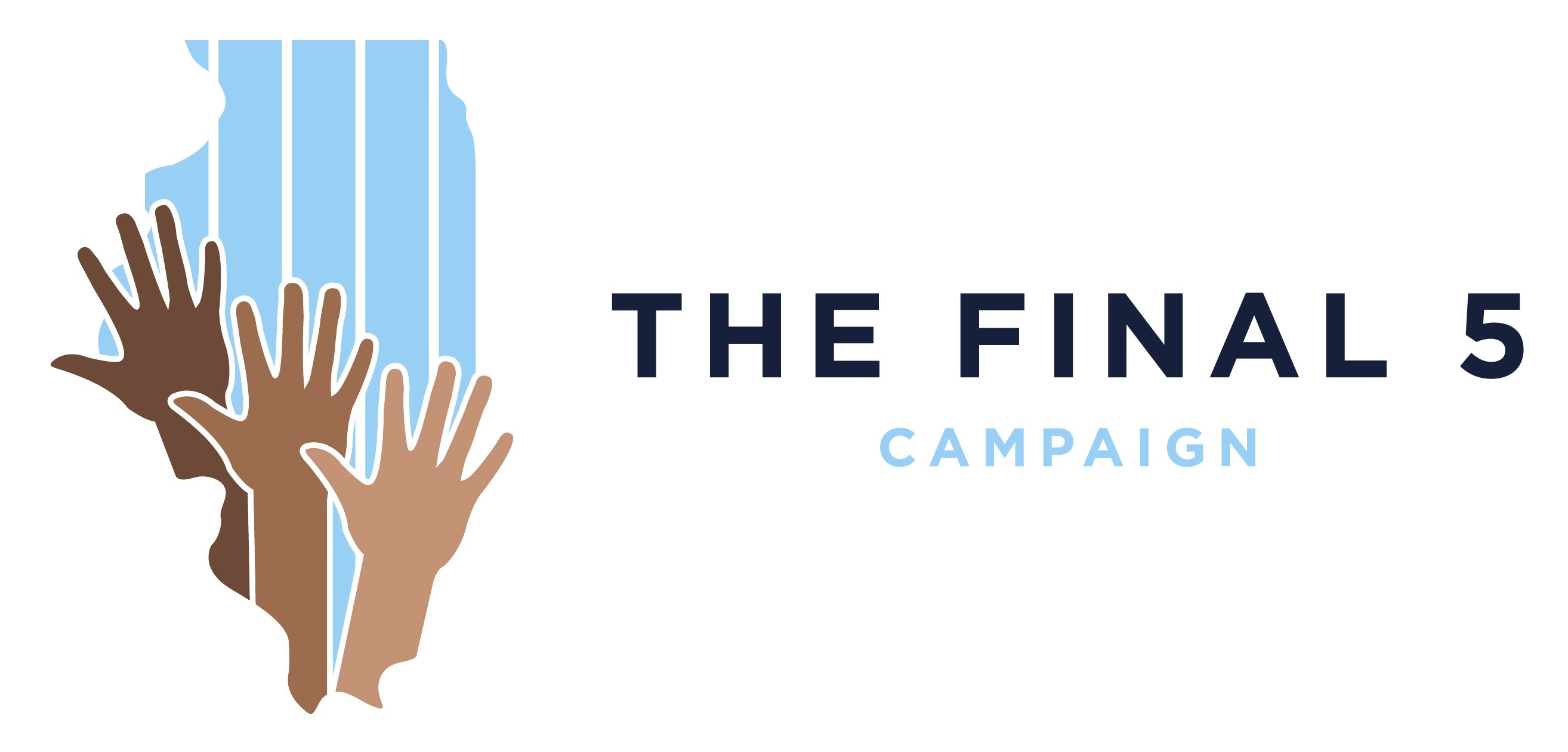 The Final 5 Campaign asks the state to take the following steps:
CLOSE the five remaining Illinois youth prisons within the next two years, with the two largest facilities (located in St. Charles and Harrisburg) leading the way.

DEVELOP a continuum of services that does not rely primarily on placing youth into facilities. Congregate settings must have a maximum capacity of 10 youth and offer developmentally-appropriate levels of comfort, privacy, and self-determination. The youth's family must be provided transportation to visit the youth weekly.

SPEND twice as much on community-directed prevention and re-entry resources than is allocated to the construction or rehabilitation of new facilities.

ENSURE that all IDJJ staff, contractors, and other adults interacting with youth on a professional level are trauma-informed and invested in the growth and rehabilitation of the youth in custody.

ACTIVELY INVOLVE formerly incarcerated youth, other impacted people and advocates, in the transformation of the juvenile prison system.

In brief, the Campaign is committed to ending youth incarceration, investing in communities and working with you to achieve our shared vision of a system that will help children in their home communities and provides equitable treatment of youth of color.  JOIN US.
---
About the Children and Family Justice Center
Founded in 1992, the Children and Family Justice Center (CFJC) is a comprehensive children's law office and part of the Bluhm Legal Clinic at Northwestern Pritzker School of Law. At the CFJC, attorneys and law students work together to promote justice for children, adolescents, and their families through direct legal representation, policy advocacy and law reform. More...
---