2016 Global Jurist of the Year

JUSTICE ROSALIE SILBERMAN ABELLA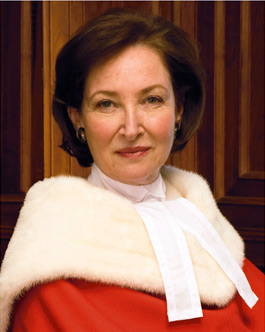 Justice Abella (photo credit: Philippe Landreville)
Northwestern Pritzker School of Law's Center for International Human Rights (CIHR) has selected Justice Rosalie Silberman Abella, who serves on the Supreme Court of Canada, to receive the 2016 Global Jurist of the Year Award. 
The award will be presented at a dinner at the Law School on Wednesday, January 25, 2017, at which Judge Abella will speak. She will also deliver an address to the student body at noon. The address is free and open to the public. For information about attending the dinner, please contact Professor Juliet Sorensen. 
The Global Jurist of the Year Award is designed to honor a sitting judge, whether in an international or national court, who has demonstrated in his or her career courage in the face of adversity to uphold and defend fundamental human rights or the principles of international criminal justice. Jurists from all nations and tribunals are eligible for consideration.
Ambassador David Scheffer, director of the Law School's Center for International Human Rights, said: "Justice Abella has stood throughout her judicial career for the enforcement of human rights principles for all Canadians, regardless of their gender, ethnicity or station in life. We are very proud to honor her as Global Jurist of the Year."
Abella is a pioneer in many ways. She is the first Jewish woman and the youngest person ever appointed as a judge in Canada. She also is the first Jewish woman appointed to the country's Supreme Court. Born in a displaced persons' camp in Stuttgart, Germany, in 1946, Justice Abella is the daughter of two Holocaust survivors. 
Abella's father — who in 1930 was one of four Jewish students in his law school class in Poland — served as the head of legal services for residents of displaced persons' camps before the family emigrated to Canada as refugees in 1950. His experiences inspired Abella's interest in the legal profession.
Abella attended the University of Toronto, where she earned a B.A. in 1967 and a law degree in 1970. She practiced civil and criminal law until 1976, when she was appointed to the Ontario Family Court. She then served on the Ontario Human Rights Commission for five years, and as chair of the Ontario Labour Relations Board, the Ontario Study into Access to Legal Services by the Disabled and the Ontario Law Reform Commission. 
In 1983, she was appointed sole commissioner of the federal Royal Commission on Equality in Employment, which sought to address workplace discrimination against women, aboriginal peoples, minorities and those with disabilities. 
Her seminal work on this commission, now known as the Abella Commission, led to the creation of the concept of employment equity. She was appointed in 1992 to the Court of Appeal for Ontario, where her rulings included the 1998 landmark decision that resulted in the extension of survivor benefits to same-sex partners. In 2004, she was appointed to the Supreme Court of Canada.