Gabriel Solache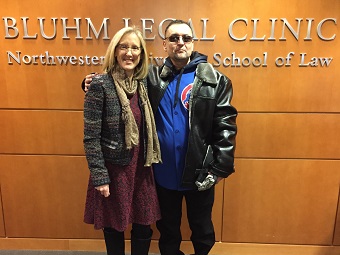 Gabriel Solache and his attorney Karen Daniel
Sent to death row solely on the basis of a confession beaten out of him by a detective now deemed a liar and accused of serial misconduct
Gabriel Solache, a factory worker with no criminal record, was arrested on April 3, 1998, for a double murder and double kidnapping. He was sentenced to death in 2000 (later commuted to life with without parole in 2003). On December 21, 2017, the Cook County State's Attorney voluntarily dismissed all charges against Solache and his codefendant Arturo Reyes (represented by Jenner & Block).
Mariano and Jacinta Soto were found stabbed to death in their Chicago apartment in March 1998. Their three-year-old son and baby daughter were missing, sparking a widespread search.
On March 28, 1998, 22-year-old Adriana Mejia brought home a baby girl to the apartment building she and her husband shared with numerous relatives and acquaintances, including Solache. Mejia claimed she had just given birth to the baby, and further claimed a woman at the hospital had asked her to watch the young boy Mejia also had with her. Solache arrived home at about 4:00 a.m. after working an overnight shift that began the previous afternoon; he went to sleep and learned about the baby's arrival later that morning.
On April 2, one of the building residents recognized the boy from news accounts of the crime. Mejia's husband insisted – over her objections – on taking the boy to the police station. He asked building residents Gabriel Solache and Arturo Reyes to accompany him, and they agreed.
The men arrived at a police station in the early morning hours of April 3. They were transported to the Chicago Police Area 5 detective division, separated, and questioned. Although Solache was a Mexican citizen, authorities failed to notify the Mexican Consulate of his detention or offer Solache consular assistance as required by the Vienna Convention. Police took Solache's shoes, believing they had blood on them, but DNA testing later showed there was no blood on the shoes.
Under interrogation, Mejia admitted to faking a pregnancy and murdering the Soto couple in order to get a baby because she had been unable to conceive. Mejia, Mejia's husband, Reyes, and Solache were all interrogated by Detective Reynaldo Guevara, and all later testified that he beat or physically abused them. Mejia was the first to confess to the murders and also implicated Reyes. Reyes then allegedly confessed and implicated Solache. Mejia was reinterrogated and added Solache to her account. Finally, Solache orally confessed to Guevara because he could not "stand the beating anymore."
Solache spoke only Spanish, but he later signed a confession written entirely in English by Assistant State's Attorney Heather Brualdi, who did not speak Spanish. The only other person in the room with Brualdi and Solache was Guevara. Solache later testified that it was Guevara who provided facts for the confession, and that Guevara never translated the written statement for Solache. The written confession was at odds with the forensic evidence; the confession had the victims' bodies in the wrong locations and falsely asserted that Solache had noticed blood on his shoes.
Mejia, Solache, and Reyes all moved to suppress their statements based on physical coercion, but Cook County Circuit Judge Stanley J. Sacks found Guevara's denial of abuse credible and rejected the motions. Solache and Reyes both maintained their innocence at separate jury trials, but both were convicted solely on the basis of their alleged confessions. Substantial DNA evidence linked Mejia to the crime; her DNA was at the crime scene, and the victims' blood was on her shoes and clothing. In contrast, no physical or biological evidence of any kind tied Solache or Reyes to the crime. Solache was sentenced to death; Reyes was sentenced to life imprisonment. Mejia pleaded guilty but did not testify at either man's trial.
The Office of the State Appellate Defender referred Solache's case to the Center on Wrongful Convictions in 2002 for post-conviction representation because Solache adamantly maintained his innocence. Among the claims included in Solache's 2003 post-conviction petition was newly discovered evidence that Guevara had engaged in a pattern of abuse and misconduct spanning many years. This claim was supported by affidavits, testimony, statements, and police department complaints from dozens of individuals. Judge Sacks summarily dismissed the petition in 2004, but the Appellate Court reversed the dismissal in 2006, stating: "If even a fraction of the allegations included in this evidence had been presented prior to trial, it appears likely that Guevara's credibility would have been damaged and defendants' confessions would have been suppressed. Without these confessions, the State's case against defendants would have been severely weakened. No DNA matching the profile of either defendant was found at the scene of the crimes. In addition, no other physical evidence was uncovered linking defendants to the offenses." The Appellate Court further ordered that the case be assigned to a different judge on remand.
Starting in 2007, the post-conviction matter was heard by Cook County Circuit Court Judge James Michael Obbish. Over the State's Attorney's objections, Judge Obbish conducted a multi-year evidentiary hearing at which numerous witnesses described misconduct by Guevara. Judge Obbish also considered similar accounts of misconduct by Guevara that were offered through transcripts. Solache and Reyes again testified. The defense called Guevara as a witness, but he refused to answer questions and instead invoked his Fifth Amendment privilege against self-incrimination. In a written opinion, Judge Obbish found that Solache and Reyes had presented credible and unrebutted evidence of a pattern and practice of abuse and misconduct by Guevara, and ordered a new a suppression hearing. Prosecutors initially filed a notice of appeal from this ruling but withdrew it six months later. Around the same time, new DNA test results revealed the presence of male DNA on one of the murder weapons that did not come from Solache, Reyes, or the male victim – which amounted to additional evidence of the defendants' innocence.
At the new suppression hearing, Guevara attempted to again avoid testifying by invoking his his Fifth Amendment privilege. After prosecutors offered him immunity, however, the judge ordered him to testify. Guevara then claimed he could not remember the crime, the investigation, his interrogations, or his prior testimony in the case. Judge Obbish found that Guevara had lied at the hearing and rejected the prosecution's request to credit Guevara's testimony from the first suppression hearing, concluding that Guevara could not be deemed credible in any proceeding. Judge Obbish therefore granted the motion to suppress the confessions, and a week later, the State's Attorney dismissed all charges against both men.
Solache was represented by Jane Raley (who passed away on Christmas Day 2014) and Karen Daniel from the CWC, and by Bluhm Legal Clinic faculty member Jeffrey Urdangen. Dozens of Northwestern law students contributed countless valuable hours to the investigation and litigation of Solache's case over the course of more than 15 years. The Office of the Mexican Consulate General in Chicago offered support to Solache after learning of his arrest and throughout the entirety of the litigation.