Impact of Brendan Dassey's Case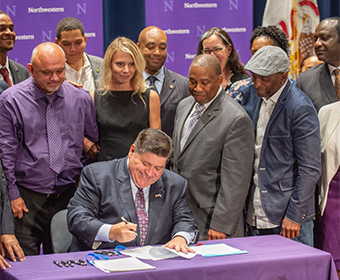 On July 15, 2021, Illinois Governor J.B. Pritzker signed into law four criminal justice reform bills, including the historic S.B. 2122, which is the first law in U.S. history to prohibit police from lying to youth during interrogation. At signing, the Governor was surrounded by dozens of exonerees from Illinois and beyond, many of whom had served decades in prison because they had falsely confessed as youth to serious crimes they did not commit.
Brendan's case has inspired and will continue to inspire waves of reform. In 2021, Illinois became the first state in U.S. history to pass a bill banning police from lying to children during interrogation, which is a proven risk factor for false confessions. Illinois Minority Leader Jim Durkin (R) explained that he co-sponsored the bill after "learning about the case of Brendan Dassey" and the "coercion and deception that was levied upon a 16-year-old." He told national media: "Our criminal justice system should not be guided by a conviction, but rather it should be guided by the advancement of the truth. Deception can never be utilized...against juveniles." The bill passed nearly unanimously with strong bipartisan support and was signed by Gov. J.B. Pritzker at Northwestern Law. 
Since then, four more states (CA, UT, DE, and OR) have passed similar bans on deception during interrogation, often after experts testified about Brendan's case during legislative hearings. As in Illinois, Oregon sponsor Senator Chris Gorsek (D-Troutdale), a former police officer, has stated that he "drew inspiration from the case of Brendan Dassey." At least ten other states are considering similar legislation.
The nation's largest police training firm, Wicklander Zulawski, has used Brendan's interrogation video to teach more than 50,000 police officers nationwide "what not to do" during juvenile interrogations. The firm reports that police "overwhelmingly" support Brendan and "often…identify the issues with his interrogation themselves."
Nearly three dozen legal scholars have published articles and books recommending reforms based on Brendan's interrogation. His case is taught in law schools around the country to illustrate how police interrogations can elicit false confessions.