New Scholarship Recognizing African American History and Culture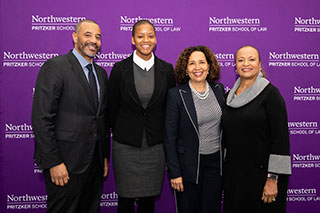 Jared Bartie (JD '93), Eliza Quander (JD '22) - the inaugural recipient of the African American History and Culture Endowed Scholarship, Toni Bush (JD '78), Gail Hasbrouck (JD '74)
Northwestern Pritzker School of Law established a first-of-its-kind scholarship, which will be awarded annually to outstanding students who demonstrate interest in, or commitment to, African American history and culture.
The Law School received commitments totaling $400,000 from a group of African American alumni to launch the historic initiative, which is known as the African American History and Culture Endowed Scholarship. "The African American History and Culture Endowed Scholarship will enhance the Law School's efforts to recruit to diversify our student body and foster an inclusive and socially engaged academic community," Dean Kimberly Yuracko said in a letter to the Law School community.
On February 28, 2019, the final day of Black History Month, Northwestern Law students, alumni, faculty and staff gathered in the Atrium to celebrate the new scholarship, which was generously funded by Jared Bartie (JD'93), Sharon Bowen (JD'82), Toni Bush (JD'78), Rita Fry (JD'79), Gail Hasbrouck (JD'74), John Palmer (JD'09), Wesley Morrissette (JD'14), David Rone (JD'87), and Andrew M. Stroth (JD'99). "There is a recognition of the importance of diversity in the legal community, and we have to break down as many barriers as possible to getting a good education and being ready for opportunities in the legal community," Hasbrouck said.
Each of the founding members of the scholarship were active members of the Black Law Students Association (BLSA) during their time on campus. Nnenna Onyema, the 2018-2019 BLSA president, said the scholarship speaks to the power of community. "The BLSA community is blown away by the generosity of our African American alumni community," she said. "We know from experience that for African American students, the financial burden of law school is, at best, a very present source of stress for current students, and at worst, a barrier to entry for the faces we will not ever meet."