Hispanic/Latinx History and Culture Scholarship Helps Close Motion to Lead Campaign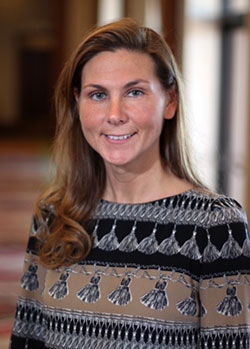 Stephanie Hosler (WCAS '95, JD '99)
Northwestern Pritzker School of Law has concluded the Motion to Lead campaign, its largest fundraising campaign ever, raising $265 million. Stephanie Hosler (WCAS '95, JD '99) and Matthew Hosler, MD (JD '99) helped to close the campaign by committing to endow the Hispanic/Latinx History and Culture Endowed Scholarship at the Law School. This new scholarship will support admirable students who have demonstrated interest in, or commitment to, Hispanic/Latinx history and/or culture.
Ms. Hosler was a member of the Latino Law Students Association during her time at the Law School and is an active member of the Hispanic National Bar Association. She is also a partner and global leader of the corporate transactions and finance department at Bryan Cave Leighton Paisner LLP. Dr. Hosler is a pediatrician in St. Louis, Missouri. Leonard Loventhal (JD-MBA '85) is also a contributor to the scholarship.
At the 2020-2021 virtual Celebration of Scholarships, Ms. Hosler spoke about her motivation for creating the scholarship, saying, "I grew up the daughter of immigrants with no extended family in the United States," she said. "It was of upmost importance to my parents that myself and my three siblings made the most of the opportunities that exist in the United States. As such, education and the opportunities for education were always greatly valued and treasured in our household. This has stayed with me throughout my life and is why ensuring such opportunities for others is always a priority for me."
Through the Law School community's generosity, Northwestern Pritzker Law established 70 new endowments, 52 new scholarships, five new professorships, and much more. "The success of this campaign has bolstered our future and will benefit the Law School for decades to come," said Dean Hari Osofsky. "We want to thank you, our extraordinary community of alumni, friends, faculty, and staff, for making this happen, and we want to thank the Campaign Cabinet and Dan Rodriguez, Kim Yuracko, and Jim Speta, for their extraordinary leadership."
The Motion to Lead campaign launched on September 1, 2011, with an initial goal of $150 million, aimed at advancing the Law School's position at the forefront of legal education. In 2015, just four years into the campaign, the initial goal was reached, thanks in part to the Pritzker Family Foundation's transformative gift that renamed the Law School and made visionary investments in financial aid, the law, business, and technology curriculum, and public interest initiatives.
To check out some of the notable accomplishments as a result of the campaign, watch our thank you video.