Waltz-Edman Scholarship Benefits 27 Students in First Year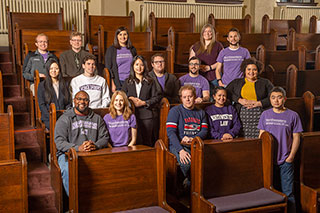 Sixteen of the 27 students who received the inaugural Waltz-Edman Scholarships
Northwestern Pritzker School of Law received a bequest of more than $1 million from the estate of Jon Waltz and Ross Edman to establish the Waltz-Edman Scholarship, which provides merit based awards to law students. This gift allows the Law School to continue offering financial support to recruit the brightest and most qualified candidates.
Waltz, who died in 2004, was a beloved Law School professor for more than 30 years. He was an internationally known expert in evidence and trial procedure and a prominent legal scholar.
Professor Waltz joined Northwestern in 1964 after 10 years as a member of the Cleveland law firm of Squire, Sanders & Dempsey. While on leave from that firm from 1955-58, he served in the Judge Advocate General's Corps of the U.S. Army. He was decorated for his service as a special prosecutor in United States vs. Rhodes, an espionage case arising out of the apprehension of Soviet Secret Police agent Colonel Rudolph Ivanovich Abel.
In the first year after the scholarship's establishment, there were a total of 27 recipients. The recipients are representative of the student body as a whole — a diverse group hailing from Hawaii to Washington, D.C., Canada to China. More than one student has a background in music, a few came to the Law School from the medical field, and one is a military veteran.