Howard and Betsy Chapman: Paying It Forward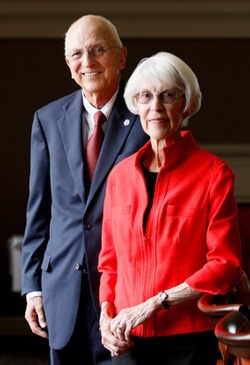 Howard and Betsy Chapman
For Howard Chapman (JD '58), giving back is as much a privilege and an honor as it is an obligation. Chapman, who attended Northwestern on an academic scholarship, will always be grateful for the opportunity to study law without worrying about finances.
"When I really needed help, the scholarship was crucial for both starting and completing my studies," he said.
Now, more than five and a half decades later, Chapman and his wife, Elizabeth (Betsy), have made a $3 million gift to the Law School to establish a chaired professorship in their names. The endowment will promote scholarly work in business law, trial advocacy, trust or estate law, or a combination of these areas.
"When we get into our later years it behooves us all to give back if we are able to do so," said Chapman, who added that because Northwestern Law gave him "a really good grounding and foundation" for his law career, it is fitting to return the gesture by repaying the school.
Academic scholarships allowed Chapman to earn both his bachelor's and law degrees at Northwestern, where he and Betsy met as undergraduates. They were married shortly after he graduated in 1955, and that fall he entered Northwestern Law. Highlights of his three years as a JD student included a stint as associate editor of the Northwestern University Law Review and election to the Order of the Coif.
"Great traditions, memories, and friendships were built when I was at the Law School," said Chapman. "I was fortunate to soak up so much knowledge and experience from seasoned professors who helped make me the lawyer I am today."
Chapman's long career in law began—and has thrived ever since—in Betsy's hometown of Fort Wayne, Indiana, where the couple moved after Howard received his degree in 1958. There he joined Shoaff, Keegan & Baird and was made a partner in 1963. Seven years later he helped establish the firm of Bonahoom, Chapman & McNellis, which merged in 1986 with Barrett, Barrett and McNagny to form Barrett & McNagny. Chapman was a partner at that firm until he became of counsel in 2003. Along the way, he served as president of the Allen County (Indiana) Bar Association and was on the boards of the Waterfield Mortgage Company and the Union Federal Bank of Indianapolis.
Betsy, a musician, has coauthored three musical plays for children, which have been performed nationally, and she has served on the boards of numerous community and charitable organizations, including Arts United of Allen County and Fort Wayne's Museum of Art, Civic Theatre, and Philharmonic.
Together the Chapmans have made it a practice to give back and volunteer—activities they characterize as their "pleasure and civic duty." Close to home, they established the Chapman Scholars Program and the Chapman Distinguished Professorship in the Department of English and Linguistics at Indiana University-Purdue University Fort Wayne. And before Northwestern Law received the couple's recent $3 million gift, they had already established the Howard and Betsy Chapman Law Scholarship Fund.
"It is my hope that the scholarship fund gives the best and the brightest the opportunity to get an education at a top-tier law school," said Chapman, speaking not just as a proud alumnus with a distinguished career under his belt. As a onetime scholarship recipient himself, he believes in the power of paying it forward.
April, 2013