Savners Generously Increase Commitment to Fundraising Campaign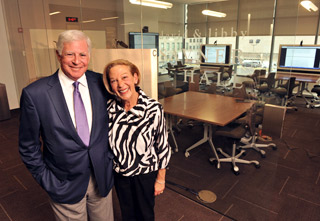 David and Libby Savner
David A. Savner (BA '65, JD '68) and his wife, Libby, have made a generous donation to the Law School in the amount of $1.5 million. This follows a $1 million gift in 2014, and, with other support, brings the Savners' impressive philanthropy in the Motion to Lead Campaign to over $2.6 million. 
This latest gift ensures that The David and Libby Savner Scholarship Fund will provide full-tuition scholarships for future generations. Strengthening financial support for our students is a key priority of our strategic plan, and can only be accomplished through the generosity of donors like the Savners. This gift also benefits the Annual Fund, which helps further the Law School's agenda. The Savners' 2014 gift outfitted Savner Hall, our state-of-the-art classroom dedicated to technology-based teaching solutions. 
David received his Bachelor of Arts in History from Northwestern University before attending the Law School. He is a partner at the law firm Jenner & Block with an expertise in mergers, acquisitions, and buyouts. Formerly, he served more than 12 years as the chief legal officer for defense contractor General Dynamics, where he helped grow the company into a $31 billion global leader in the defense industry. His wife is a graduate of Washington University in St. Louis, and works as a travel consultant. 
David has a long track record of commitment to the Law School. He is a life member of the Law Board, a member of the Campaign Cabinet, and formerly chaired his 45th reunion committee. "We greatly appreciate his dedication to our institution and look forward to a continued partnership," said Dean Daniel B. Rodriguez. 
This is one of the many, many examples of generosity from our outstanding community of alumni and friends. Today, the Motion to Lead Campaign has exceeded $215 million in gifts and commitments, with unique donations from more than 9,800 alumni.  
August, 2017