Father and Son, Alvin and Jordon Kruse, Establish Kruse Family Scholarship Fund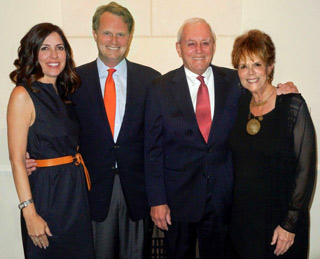 From left: Jacqueline, Jordon (JD '97), Alvin (BA '65, JD '68), and Cynthia Kruse
Alvin (BA '65, JD '68) and Jordon (JD '97) Kruse have pledged $1,000,000 to the Northwestern Pritzker School of Law to establish the Kruse Family Scholarship Fund. This generous gift further advances the Law School's mission of educating the brightest and most qualified students regardless of ability to pay. The first scholarship recipient to benefit from this fund will enter the Law School in fall 2017.
"Financial aid is a key priority of our campaign, and we are thrilled that future students will benefit from the generosity of the Kruse family," says Dean Daniel B. Rodriguez.
The Kruse family has a long-standing relationship with Northwestern University. Al Kruse graduated Phi Beta Kappa from Northwestern University in 1965, and cum laude and Order of the Coif from Northwestern Law in 1968. A partner in the Chicago office of Seyfarth Shaw LLP, Al's practice focuses on real estate law.
His son, Jordon, received his bachelor's degree from the University of Virginia before joining his father's alma mater and earning his JD from Northwestern Law. He was also a member of the Order of the Coif. Jordon is currently managing director and co-portfolio manager of the Special Situations Group at Oaktree Capital Management, LP, a global alternative investment management firm. A resident of Los Angeles, Jordon is a member of the Campaign Cabinet and serves on his class reunion committee.
"My father and I share this connection with Northwestern Law, and we are proud to invest in the Law School's future in our family's name," Jordon says. "We hope we are doing our part to ensure the Law School's continued success and make it possible for a bright, young person to benefit from a superb legal education."
September, 2017