Michael and Cari Sacks Gift $2 Million to Law School in Support of Scholarships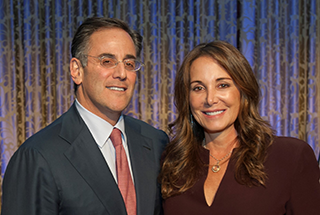 Michael (JD-MBA '88) and Cari Sacks
Michael (JD-MBA '88) and Cari Sacks have generously committed $2 million to support scholarships for former Chicago Public Schools (CPS) students attending Northwestern Pritzker School of Law. 
The Cari and Michael Sacks (JD-MBA '88) Family Scholarship will fund tuition, books and supplies, student fees and living expenses for at least one law student per year in perpetuity.
The Sackses' support will bolster Northwestern Pritzker Law's ongoing commitment to diversity, equity and inclusion, and help the Law School remain competitive by successfully recruiting excellent students, reducing the burden of debt for future lawyers and leaders, and thus empowering students to pursue areas of the law about which they are the most passionate. 
"This generous gift helps the Law School further its goals of diversity, equity and inclusion by expanding access and deepening our connections to the city of Chicago," said James Speta, interim dean of Northwestern Pritzker School of Law. "As a leading law school based in Chicago, we seek to enroll the most talented local students, regardless of their ability to pay."
The Sackses are longtime benefactors and leaders within the Northwestern and Chicago communities. Their gift to the Law School is part of a $5 million gift that will also benefit Northwestern University and the Kellogg School of Management, establishing a similar scholarship for business students and expanding on their past support for Northwestern undergraduates who attended CPS.
It also builds upon their previous investments in the Law School. In 2007, Grosvenor Capital Management (GCM), where Mr. Sacks is chairman and CEO, established a scholarship to support students enrolled in the joint JD-MBA program. A 2017 gift from Mr. Sacks and GCM Vice Chairman Paul A. Meister (JD '87) named the GCM Grosvenor Information Commons, which enhanced learning technology and support in the Pritzker Legal Research Center. 
A Chicago native, Mr. Sacks received a joint law and MBA degree from Northwestern in 1988. He has been a University trustee since 2007. He is also a member of the "We Will" Campaign Steering Committee and Kellogg Finance Network. 
"Cari and I feel fortunate to be able to support Kellogg and the Pritzker School of Law in providing opportunities for talented students from the Chicago Public Schools," Michael Sacks said. "Connecting the success of Chicago Public School children with Northwestern has been a passion of ours for many years, and we are thrilled to take this additional step forward. We thank President Schapiro, Dean Cornelli, Interim Dean Speta, Bob McQuinn and the entire team at NU for their focus on Chicago's school children and helping Cari and me to make this gift count."
This gift adds to the Law School's ongoing Motion to Lead Campaign, which has now raised over $262 million from nearly 13,000 generous alumni and friends. Motion to Lead is part of We Will. The Campaign for Northwestern, which is helping to realize the transformational vision set forth in Northwestern's strategic plan and to solidify the University's position among the world's leading research universities. More information on the "We Will" Campaign is available at wewill.northwestern.edu.
March, 2021