Kirkland's Alumni Partners Pledge $5 Million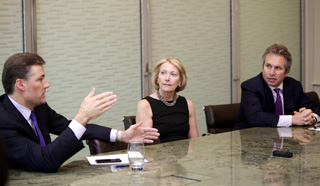 Kirkland & Ellis partners Jeffrey Hammes, Vicki Hood, and Robert Hayward
Kirkland & Ellis partners Jeffrey Hammes (JD '85), Vicki Hood (JD-MBA '77), and Robert Hayward (JD '97) demonstrated their commitment to Northwestern Law and to legal education by spearheading a pledge from Kirkland's senior alumni partners of $5 million, one of the largest single gifts in the school's history.
Thirty-one equity partners at Kirkland & Ellis, in conjunction with the Kirkland & Ellis Foundation, have joined the five-year pledge. The contributing partners are all Northwestern Law alumni and represent all six of the firm's US offices.
"As alumni and practitioners, we have a strong personal commitment to Northwestern Law," said Hood, who serves on the Northwestern Law Board. "The firm has not made a major gift to Northwestern as a joint effort in several years, and we thought it was important to do this for the school."
"The main purpose of this gift is to give back to an institution that has given so much to us," said Hammes, chairman of Kirkland & Ellis's Global Management Executive Committee and a member of the Northwestern Law Board. "We have been fortunate to have achieved some success in the real world, and we certainly attribute a good portion of that success to our time at Northwestern."
The gift will establish the Kirkland & Ellis Scholarship Fund to provide scholarships for students in the JD-MBA program as well as an annual awards program for high-achieving first- and second-year law students, who will be honored as Kirkland & Ellis Scholars. In addition, the gift will fund a unique educational program called the Kirkland & Ellis Business Law Forum for C-suite executives, members of boards of directors, general counsel, business development executives, students, and alumni.
"I think the gap in legal education between upper-tier law schools like Northwestern and everyone else will continue to grow, and our hope is that this gift gives the dean and the faculty the ability to keep Northwestern a world-class institution," said Hayward. "Also, we hope that this gift will enable students to distinguish themselves, especially as business-oriented lawyers, and that's why a focus of the gift is the JD-MBA program."
Kirkland & Ellis has been a strong supporter of Northwestern's JD-MBA program over the years. In a letter of thanks on behalf of the JD-MBA Student Association, co-chairs Viren Tellis (JD-MBA '13) and Ben Waldin (JD-MBA '14) acknowledged the "enormous value in ensuring the successful execution of innovative change" that Kirkland & Ellis has contributed through its long-standing relationship with the program: "Kirkland & Ellis's support in providing speakers, advice, and funding have helped make our events and programming successful and instilled confidence in the program among school administration and the student body."
A sizable majority of the gift will also provide for unrestricted support of the Law School.
"This is of great significance because it will give us the flexibility to pursue initiatives that benefit our students, enhance our competitive position, and set aside funds for the long-term interests of the Law School," said Dean Daniel Rodriguez.
"This gift from Kirkland & Ellis will provide a meaningful boost in our efforts to address what is among my highest priorities as dean: easing the financial burdens faced by our law students and young alumni, burdens which can be alleviated by a combination of short-term and long-term measures, including limiting tuition increases, reducing student debt, and looking closely at the size of our law school," Rodriguez said.
Kirkland's continued support has also led to lasting partnerships with students. National Law Journal's recent law school rankings showed that Northwestern Law was the top feeder school to Kirkland & Ellis for the classes of 2010 and 2011. A number of students from the class of 2013 have accepted offers to work at the firm.
Approximately 130 current Kirkland attorneys are Northwestern Law alumni, and many give to the school annually. More than 20 years ago, the Kirkland & Ellis Foundation and a number of the firm's partners endowed the Kirkland & Ellis Professorship of Law and established the Kirkland & Ellis Research Fund at the school.
October, 2012