The Seigle Family Chair of Law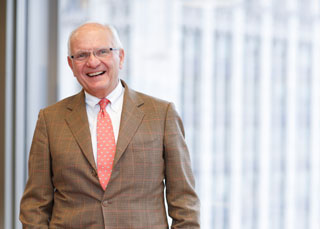 Harry J. Seigle (JD '71)
$3 million in gifts to Northwestern University from Harry J. Seigle (JD '71) will establish an endowed fund to support faculty excellence and create a new named professorship, the Seigle Family Chair of Law.
"Harry's generous support," said Dean Daniel B. Rodriguez, "will help in our key goal of recruiting and retaining world-class faculty—those teacher-scholars who enrich our academic program and bring luster to our great law school. I am proud to call Harry my friend and his friendship to our law school, manifest in this and in other ways, is very meaningful indeed."
Harry Seigle grew up in Elgin, Illinois, a town located on the Fox River about forty miles northwest of Chicago. His father owned the Elgin Lumber Company, and he and his brothers worked there as teenagers, but he didn't consider going into the family business until later—after he earned an A.B. in 1968 from Washington University in St. Louis, after he earned a J.D. in 1971 from Northwestern Law, after he practiced law for three years at Chapman and Cutler in Chicago.
In 1974, his father considered selling the lumber yard and asked his son for advice. Seigle saw immediately that the family business was very well situated. "I recognized that there would be significant population growth in communities outside Chicago, and that demand for building materials would be high in Lake, Kane, Will, and DuPage counties," he said.
So he left the law firm, moved back to his hometown, and went into the building supply and carpentry business. He also married Susan Gilbert Seigle and together they raised three sons—one of whom, Max, is a 2005 graduate of the Medill School of Journalism at Northwestern University.
Over the next three decades, as chairman and president of Seigle's, he led the company to become Chicagoland's largest building products supplier to homebuilders, remodelers, and contractors.
"I felt empowered to grow the business by virtue of my Law School training," Seigle said. "My legal education protected us from unnecessary risks and helped steer a prudent, careful path to develop the business without being reckless. Conversely, it informed us of risks worth taking."
In 2006, Seigle moved to Chicago and launched The Elgin Company, a family office devoted to real estate acquisition and management, private investing, and philanthropy. A noted civic leader, Seigle is president of the Chicago American Jewish Committee. He currently serves on the Board of Trustees for the Steppenwolf Theatre Company and on the Board of Washington University in St. Louis. He is also the president of the Seigle Family Foundation, established to promote education and human welfare. —Kirston Fortune
May, 2015