Hochkammers Generously Support Law School through Several Gifts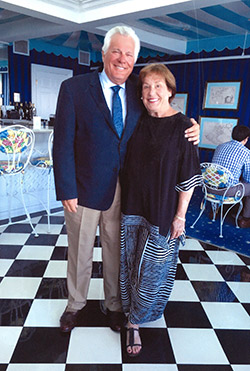 Bill and Marcia Hochkammer
Bill Hochkammer (JD '69) and Marcia Hochkammer (BS '67) have generously supported Northwestern Pritzker School of Law with several major gifts, totaling more than $522,000, throughout the Motion to Lead Campaign. The Hochkammers have been loyal donors to the Law School for over 40 years.
In 2013, they endowed the William O. and Marcia A. Hochkammer Scholarship for students with demonstrated financial need. Their most recent pledge of $200,000 supplements the scholarship to further its impact for the Law School's deserving students, and commits $50,000 to the Law School Fund. 
The Hochkammers' ties to Northwestern are longstanding and meaningful. Marcia graduated from Northwestern University, as did her brother, Arthur (BS '61), parents, Theodore Teitgen (BA '31, MD '35) and Mildred Teitgen (BA '32), grandfather, Arthur Theodore Teitgen (MD '07) and great uncle, Arthur Herbert Teitgen (DDS '05). Bill and Marcia's daughter, Anna (BA '94), also graduated from Northwestern. 
Mr. Hochkammer is a partner at Honigman LLP specializing in healthcare and alternative risk financing. He served as the firm's Chairman from 1991 to 1998 and as Chief Executive Officer from 1993 to 1998. He is a life member of the Law Board, a member of the Law School's Campaign Cabinet, and currently serves on his 50th Reunion committee. 
Scholarship support is an important pillar of the Motion to Lead Campaign, which has raised over $243 million and secured nearly 40 new scholarships from alumni and friends. "The support of our alumni allows us to educate extraordinarily talented students regardless of financial condition and circumstance, thereby diversifying and strengthening our community," Dean Kimberly A. Yuracko said. "We are truly grateful for the Hochkammers' enduring generosity."   
April, 2019