Lanny and Sharon Martin Give $10 Million Unrestricted Gift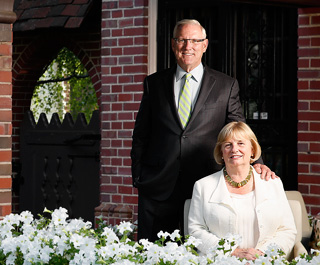 Lanny and Sharon Martin
A commitment to Northwestern Law's innovative strategies prompted J. Landis "Lanny" Martin (JD '73) and his wife, Sharon, to make a $10 million unrestricted gift to the school.
Lanny Martin hopes the gift will "help Northwestern Law continue to provide the legal education that is integral in developing highly capable critical thinkers."
"I've been very close with the last four deans, and over the years Northwestern Law has increased its stature in academic excellence," said Martin. "This gift serves as a wonderful opportunity to give back to an institution that has been a great motivation to me in my career."
A member of Northwestern University's Board of Trustees and the Law Board, Martin says his experiences in law and business are integral to his role in advising and supporting Law School and University leaders.
Martin's eclectic professional portfolio embodies the entrepreneurial careers for which Northwestern Law prepares students. After success as a law firm associate and then partner and member of the executive and firm committees at Kirkland & Ellis, Martin transitioned into business, where he has led many companies that span multiple industries.
"I loved the practice of law and I enjoyed the corporate work in helping clients with mergers and acquisitions and crisis management," he said. "That's what initially piqued my interest in business and got me thinking about getting involved with corporations."
In 2005 Martin founded Denver-based Platte River Equity, a private equity investment firm focused on small- and middle-market operating companies; he currently serves as managing director. He is lead director of Halliburton Company and a founding director and chairman of the board of Crown Castle International Corporation, a leading independent owner and operator of wireless communication sites. He is also a member of the board and lead director of Denver-based Intrepid Potash and of Apartment Investment Management Company, one of the nation's largest owners, operators, and managers of apartments.
Sharon Martin earned her bachelor's degree from Denison University, where she served for a decade as a trustee. She has been a leader in the Denver arts and education community for more than 30 years.
Unrestricted gifts such as the Martins' provide the Law School with the flexibility to fund important initiatives and programs, including financial aid, classroom and facilities upgrades, faculty hires, and student programming and activities.
"Gifts like this one go a long way toward enriching opportunities for our students, improving the already-high academic reputation of the Law School, and undertaking innovations that will prepare our students to become leaders in the profession," said Dean Daniel B. Rodriguez. "We are thrilled about this unrestricted support of our Law School and are committed to using these funds responsibly and ambitiously to bring Northwestern Law to the highest level of excellence."
July, 2013