Soshnick Family Invests in Law School Faculty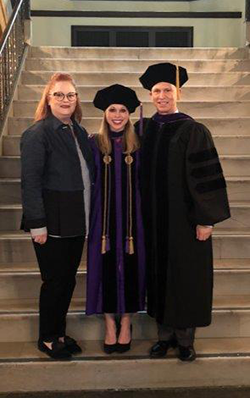 The Soshnick Family
Drew Soshnick (BA '85, MA '85, JD '88) and Brenda Soshnick have generously committed $1 million to Northwestern Pritzker School of Law. The gift will support Law School faculty in the academic areas of law and economics and provides unrestricted support to the Law School Annual Fund.
The Soshnicks' gift enables Dean Kimberly Yuracko to immediately begin recruiting and retaining excellent faculty members through the Soshnick Tactical Faculty Expendable Fund, while future administrators can leverage the Soshnick Tactical Faculty Endowment.
"The Soshnicks' gift enables the Law School to attract and keep top legal scholars now and in the future, which is meaningful to prospective students and further extends our interdisciplinary curriculum," said Dean Yuracko. "We are extremely grateful for this transformative investment in Northwestern Law."
Mr. Soshnick is a partner at Faegre Baker Daniels where his litigation practice focuses on representing individuals in complex matrimonial financial matters. At the Law School, Mr. Soshnick participated in and was an editor of the Journal of Criminal Law and Criminology, and graduated cum laude and Order of the Coif.
Mr. Soshnick is a steadfast donor to the University, holding Platinum member status in the NU Loyal Society, as does Mrs. Soshnick. He has contributed to Northwestern annually since graduating from the Weinberg College of Arts and Sciences in 1985. He is also a member of the Northwestern Law Board.
This commitment complements the Soshnicks' existing endowment that supports the Soshnick Colloquium on Law and Economics. Since its inception in 2015, the Colloquium has hosted outside scholars, resident faculty, and Law School students annually for a series of discussions on cutting-edge research papers in the fields of law and economics. The Soshnicks also established an endowment in 2010 that offers law students simulation-based learning experiences in the area of complex matrimonial law.
"Northwestern Law is already a leader in engaging faculty from many disciplines," Mr. Soshnick said. "Brenda and I are pleased to assist Dean Yuracko in retaining and attracting extraordinary faculty to offer students a well-rounded legal education in preparation to be practitioners."
The Soshnicks are members of the Campaign Cabinet, the Law School's leadership group for the Motion to Lead Campaign, and have contributed over $1.5 million to the effort. Their daughter, Haley, earned her JD from Northwestern Law in 2018.
September, 2019