Savners Give to Support Innovative Instructional Technology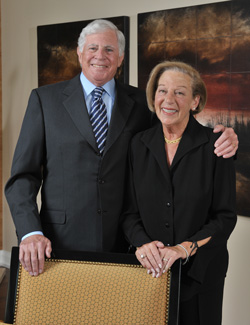 David and Libby Savner
David A. Savner (JD '68) and his wife, Libby, have given $1 million to the School of Law to outfit a new state-of-the-art classroom dedicated to technology-based teaching solutions and to create an endowed fund to keep the classroom technologically up-to-date. The classroom will be named the David and Libby Savner Hall.
Hardware and software upgrades to existing computers and audiovisual equipment, mobile LED screens, enhanced connectivity for online collaboration, and flexible seating for group work are planned for the collaborative workspace. The Savner gift also funds technical training for faculty and staff along with future technology upgrades.
"When we considered making a gift to Northwestern Law, we became intrigued with contributing to new ways of learning in the law school setting," said David Savner. "After discussions with Dean Rodriguez and Professors [Emerson] Tiller and [Leslie] Oster, we became very excited by the idea of creating a classroom and technologies geared to interactive and collaborative learning. We look forward to seeing these ideas brought to fruition and actively used by the students."
New instructional technologies are revolutionizing higher education, and contemporary students expect that technology will be an integral part of the learning experience. In a "flipped classroom," for example, students view lectures and engage in other learning activities online before class, leaving class time free for discussion, problem solving, and team activities.
"Much of the new educational technology promotes learning online outside the classroom," said Emerson Tiller, J. Landis Martin Professor of Law and Business and senior associate dean of academic initiatives. "While online lectures and independent activities conducted through the Internet interface enhance the learning environment in a variety of ways, the classroom nonetheless remains vitally important as students and professors meet in person for enhanced 'hands-on' learning activities that the out-of-classroom technology has afforded."
"This is a wonderful gift that will allow us to significantly improve our technology infrastructure," said Dean Daniel B. Rodriguez. "The Savners' gift will help us meet current needs for technology-based pedagogies and scale them up as needed in the years to come. The principal objectives of our technology strategies—strategies assisted by great gifts such as this one—are to improve student learning and support innovative legal education."
David A. Savner is a highly accomplished and widely recognized corporate attorney with expertise in mergers, acquisitions, and buyouts. He practiced law privately in Chicago before joining Jenner & Block in 1987. In 1998 he became senior vice president, general counsel, and secretary for defense contractor General Dynamics Corporation. He returned to Jenner & Block in 2010 following his retirement from General Dynamics.
While at General Dynamics, Savner served as a director of Everybody Wins DC!, a Washington-based reading and mentoring program for inner-city children. He currently serves as a director of Noble Network Education Foundation. He is a life member of the Law Board and was honored by Northwestern with an Alumni Merit Award in 2010.
Libby Savner is a graduate of Washington University in St. Louis. She has been a member and president of the Deerfield (Illinois) Board of Education and a board member of the Josselyn Center, which serves the mental health needs of Chicago's North Shore. Since 1989 she has worked as a travel consultant.
February, 2014