Law School Receives Bequest from Former Professor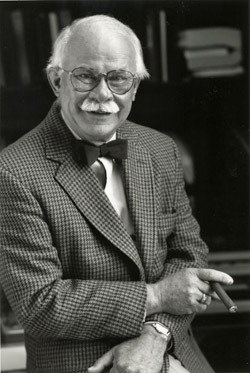 Professor Jon Waltz
Northwestern Pritzker School of Law has received a bequest of nearly $1 million from the Estate of Jon Waltz and Ross Edman to establish the Waltz-Edman Scholarship, which will provide merit-based awards to law students. This gift will allow the Law School to continue offering financial support to recruit the brightest and most qualified candidates. 
Waltz, who died in 2004, was a beloved Law School professor for more than 30 years and was notorious for sporting bow ties. He was an internationally known expert in evidence and trial procedure and a prominent legal scholar.
Professor Waltz joined Northwestern in 1964 after 10 years as a member of the Cleveland law firm of Squire, Sanders & Dempsey. While on leave from that firm from 1955-58, he served in the Judge Advocate General's Corps of the U.S. Army. He was decorated for his service as a special prosecutor in United States vs. Rhodes, an espionage case arising out of the apprehension of Soviet Secret Police agent Colonel Rudolph Ivanovich Abel.
Professor Waltz was a prolific writer whose works helped recast the law in a number of areas, especially in evidence, medical malpractice, and genetic screening and counseling. His text, "Medical Jurisprudence," won the 1972 Distinguished Service Award of the Society of American Authors, and was used in the training of physicians. His "Introduction to Criminal Evidence" was used in the training of lawyers and law enforcement agents, and his "Cases and Materials in Evidence" was the most widely adopted casebook on the subject and the publisher's bestselling book ever.
He was a consultant to numerous government agencies, including the Federal Law Enforcement Training Center, the U.S. Commission on Civil Rights and the National Institutes of Health. Illinois Gov. James R. Thompson appointed him to the Illinois Judicial Inquiry Board.
Professor Waltz was a native of Delta, Ohio. He received a bachelor's degree with honors from the College of Wooster, which awarded him a distinguished alumni award in 1987, and a JD degree from Yale University. After Professor Waltz retired from teaching law at Northwestern in 1996, faculty, students, staff, and alumni honored him as a professor emeritus.
Professor Waltz's long-time partner, Ross Edman, died in May of 2017. Edman was a professor of art history at the University of Illinois at Chicago for 30 years, specializing in Asian art. Like Waltz, he had a deep commitment to his students and higher education.
This planned gift counts toward Motion to Lead: The Campaign for Northwestern Law, a $250 million fundraising initiative that has so far raised over $220 million to support students, faculty, and programs at the Law School.
February, 2018