Dawn Clark Netsch Estate Trust Bequests $5 Million for Public Interest Scholarships, Loan Repayment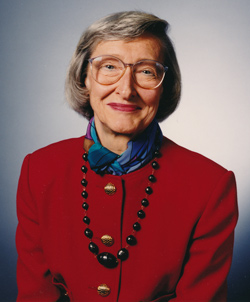 Dawn Clark Netsch (1926-2013)
Northwestern Law has received a bequest of $5 million from the Estate Trust of Dawn Clark Netsch. The gift will endow the Walter and Dawn Clark Netsch Scholarship Fund, which will provide financial aid for students at Northwestern University School of Law who are interested in pursuing careers in public interest law. The gift will also support loan repayment assistance for Northwestern Law graduates who choose public interest jobs.
"Dawn was a mentor to many generations of Northwestern Law students," said Dean Daniel B. Rodriguez. "It was very important to her that students with a passion for public service be able to pursue those types of careers. This bequest helps do that in two ways. It provides scholarship support for students who know, coming in to law school, that they want to work in the public interest following graduation. It also provides post-graduate loan repayment support for students who discover that path while they are here."
Dawn Clark Netsch (1926–2013) came to Northwestern University in 1944, majored in political science and graduated Phi Beta Kappa in 1948. She went on to Northwestern Law, where she was the first woman to earn the Scholar's Cup for having the highest grade point average in the first-year class. She graduated in 1952, the only woman in her class.
Elected to the Illinois Constitutional Convention in 1969, Netsch was one of the architects of Illinois' current state constitution. Elected to the state senate in 1970, she served for 18 years—representing the 13th and then the 14th district. In 1990, she became the first woman elected to statewide office when she won the race for Illinois Comptroller.
An expert on constitutional law, she was one of the authors of the Illinois state constitution and a co-author of State and Local Government in a Federal System, the definitive text.
She joined the Northwestern Law faculty in 1965—the school's first female faculty member—teaching and mentoring students for more than 45 years.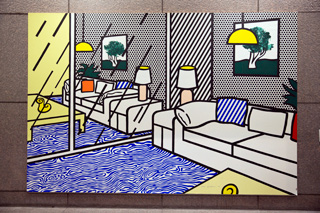 "Wallpaper With Blue Floor Interior" by Roy Lichtenstein
In 1963, she married internationally acclaimed architect Walter Netsch, best known for his design for the Cadet Chapel at the US Air Force Academy in Colorado Springs, Colorado. They were prolific collectors, together creating an important collection of modern American art. The Netsch Estate Trust also gave Northwestern Law three significant artworks as part of the bequest, notably "Wallpaper With Blue Floor Interior" by Roy Lichtenstein.
"Dawn often hosted her students at her home. She liked the idea of that tradition living on at the Law School." Rodriguez explained. "I am delighted that we have a part of their collection here. For me, it's a reminder of just how fortunate we are that she was a member of our community."
August, 2015